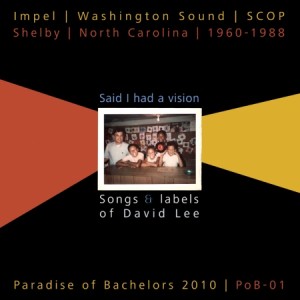 Various Artists
Said I Had a Vision: Songs & Labels of David Lee
Paradise of Bachelors (2010)
www.paradiseofbachelors.com
Like the Numero Group and Big Legal Mess, North Carolina's Paradise of Bachelors digs deep into record crates for those marvelous but regrettably forgotten discs, locates the originators, tells their story, and reissues the selections for the enjoyment of a wider audience.
One of the label's recent releases, Said I Had a Vision, is the story of music entrepreneur David Lee of Shelby, North Carolina. Like Waymon Jones, Hoyt Sullivan, Neal Hemphill, Joe Von Battle and many others, Lee operated a record store (Washington Sound), released recordings by local artists and kept as many plates spinning as time, fortune and ability allowed.
Lee's waxed product were 14 singles and two albums on his Impel, Washington Sound and SCOP (Soul, Country, Opera and Pop, pronounced Scope) imprints. Said I Had a Vision re-introduces fourteen of the sides.
Several gospel quartet gems are nestled among label hitmaker Ann Sexton's broken-hearted soul, Brown Sugar Inc's party funk and the Constellations' sock hop R&B. In fact, gospel quartet made up nearly half of the company's limited output over three decades.
The quartets Lee recorded included the Gospel I.Q.s (International Quartet), Joe Brown and the Singing Mellerairs, the Sensational Gates and the Relations Gospel Singers.
Among the gospel highlights on Said I Had a Vision are "Peace in the Land," a brisk and soulfully poppish performance by the IQ's; Joe Brown and the Singing Mellerairs' lovely "Vision" (from which the comp's title derives); and the Relations Gospel Singers' lo-fi "On My Way Up," recorded live in Mice Creek Baptist Church. As one might imagine, the only difference between the gospel and soul/R&B/funk selections are the lyrics and hard-singing, Pentecostal-style quartet leads.
The superb and well-researched full-color booklet included with the vinyl album – yes, rich, warm, heavenly twelve-inch vinyl – tells Lee's tale sympathetically and with as many details as a home-grown record company can recollect.
Paradise of Bachelors' listening party last November included live performances by many of the artists included on the set. Not surprisingly, then, Said I Had a Vision exudes the enthusiasm and passion for music, in all its shades and hues, that the artists and the label owners share…and are now sharing with us.
NOTE: Although the first 500 copies of the LP sold out expeditiously, PofB recently accepted shipment of 500 more. So have at it!
Four of Five Stars
Picks: "Peace in the Land," "Vision."