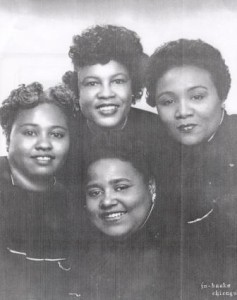 Special thanks to Joseph Middleton for alerting TBGB about this notice, found on the Atlanta Chapter of the Gospel Music Workshop of America website.
Monday, June 25th, 2007. The Atlanta Chapter of the GMWA, Inc. Mass Choir will be the guest of our own Sis. Sarah McKissick in her 87th Birthday Celebration to be held at the Mt. Patmos Baptist Church 2207 Candler Road, Decatur, Georgia 30032 where the Pastor is Rev. Raleigh Rucker. Service begins at 7:00 p.m.
* * * * *
Sarah McKissick was a member, along with Gladys Beamon and Catherine Campbell, of Chicago's Little Lucy Smith Singers (above, right). Little Lucy was the grandaughter of Elder Lucy Smith, founder of All Nations Pentecostal Church. Sarah was married to Norsalus McKissick, longtime member of the Roberta Martin Singers.
Happy Birthday, Sister Sarah!