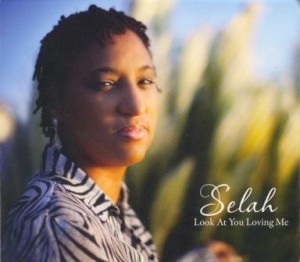 Selah
Look At You Loving Me
Lisa Watkins (2010)
www.pauseandthink.com
I am not well-schooled in inspirational poetry – though in 2009 Poet Keith Ferguson shared with TBGB the vibrant religious spoken word community that exists nationally – but even I can figure out that Lisa "Selah" Watkins definitely belongs in this community.
Her spoken word CD, Look At You Loving Me, is a demonstration of her provocative poetic skills, with music backdrops that run from conventional to edgy.
Like a Beat poet from the Lawrence Ferlinghetti 1950s, Selah, born in Washington, DC, pours out verse like water from a pitcher, consonants and vowels rolling rivers of sound as the music encourages her like an appreciative audience. Throughout this project, Selah's message is that Satan is the enemy – not individual people, situations or races – and that God is the true king.
In fact, "Black History Month" challenges listeners to keep in mind that God is the real mover and shaker, and that if Rev. Dr. Martin Luther King, Jr. or Rosa Parks hadn't assumed their ordained calling, God would have sent someone else in their place. It's a message that will make some listeners uncomfortable or even disturbed, but if one thing is certain on this CD, it's that Selah clearly stands by her statement to keep one's eyes on the ultimate king, who "taught Michael Jackson how to dance and Nancy Wilson how to sing."
A humorous interlude is "Chain Letters," on which Selah rants about friends who send her email chain letters with warnings that breaking the chain brings bad luck. She notes, appropriately, that misplaced confidence in such chicanery could actually backfire and turn people away from God.
The title performance is the testimony of a person who turns from drugs, casual sex and disinterest in church and religion (though she prays for her sports teams to win) to a disciple with a mission to spread the word. That's what Selah does on Look At You Loving Me. Her website, "Pause and Think," aptly sums up the project's point of view.
Three of Five Stars
Picks: "Look at You Loving Me."