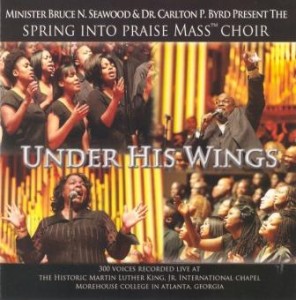 Spring Into Praise Mass Choir
Under His Wings
Spring Into Praise Publishing (2010)
When you think of denominations that front big, robust gospel choirs, the Seventh-day Adventist Church isn't the first to come to mind.
But make no mistake: the SDAs show that they have as much gospel energy as their Baptist, Spiritual and Pentecostal counterparts on Under His Wings, the first national all SDA live audio and video recording.
The event took place in July 2010 during the 59th General Conference Session of Seventh-day Adventists. The special music conference at which this recording was made sounds like a National Convention of Gospel Choirs and Choruses for the SDA Church.
The first half of the CD features the 300-voice Spring Into Praise mass choir, comprised of members from five different states. The second half showcases individual SDA church choirs that any pastor would be happy to have seated behind him.
Under His Wings features compositions from the pens of a variety of writers and just as many lead vocalists to deliver them. While the strength of the lead vocalists vary, the choirs are uniformly thunderous, energetic, and spirited. Two notable lead vocalists are Stellar Award nominee Lamar Campbell, who drives the current single, "I Command My Soul;" and LoLo Harris on "Trust in the Lord."
Spring Into Praise's "Two Steps" is an old-fashioned handclapper, a style that the Lake Region Mass Choir replicates on its aisle-walker, "Coming Again." One of the most interesting moments on the CD, however, is the title track. Written by Stephen Manders and sung by Grace Dorsey-Landy, this classically-based hymn finds Ms. Dorsey-Landy transitioning from chesty voiced vibrato to operatic soprano. The piece sounds rooted firmly in the SDA music tradition.
Regardless of the songs, the soloists, and the styles of music, one thing is certain: Under His Wings is buoyed by the energy and enthusiasm of the choristers and congregants who had the privilege of being part of this live recording.
Minister Bruce Seawood is Director and Executive Producer. He was assisted by producers Dr. Wayne Bucknor and Kelvin Wooten and Music Director Dr. G. Ian Fisher-Curley. Atlanta Berean Seventh-day Adventist Church and Senior Pastor Dr. Carlton P. Byrd hosted the Conference.
Four of Five Stars
Picks: "I Command My Soul," "Two Steps."