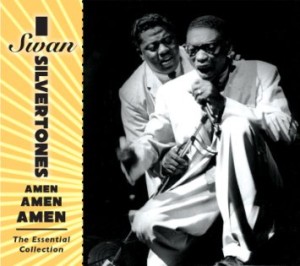 Swan Silvertones
Amen, Amen, Amen: The Essential Collection
Rock Beat Records /Archives Alive
www.rockbeatrecords.com
By Bob Marovich
Few will dispute that the Swan Silvertones are among the finest gospel quartets to gather around microphones.  From the Reverend Claude Jeter's haunting falsetto to the Reverend Robert Crenshaw's explosive improvisations, the Swans rivaled the Dixie Hummingbirds, Sensational Nightingales, Soul Stirrers, Fairfield Four, and Swanee Quintet for the title of baddest men on the gospel highway.
Producer Michael Ochs salutes this historic group with Amen, Amen, Amen: The Essential Collection.  This reissue compilation opens with several of the group's early 1950s Specialty sides—their finest recorded output, in my opinion, was for Specialty—but most of the collection focuses on choice offerings from the Vee Jay Records catalog that spanned the years 1956 to 1965.
Among the latter are classics such as "Jesus Remembers" and "Mary Don't You Weep," the song that inspired Paul Simon to write "Bridge Over Troubled Water."  The group's a cappella "The Lord's Prayer" is incandescent.  Jeter floats countermelodies as seemingly effortlessly as Hank Aaron caught fly balls.  "The Lord's Prayer" is time, harmony, and articulation mastered to perfection.
The most pleasant surprise among the Vee Jay selections is the Swan's beautiful doo-wop reading of Margaret Aikens Jenkins's "Brighter Day Ahead," famously recorded by Mahalia Jackson.
The "My Rock" compiled here is the Vee Jay version.  Though enjoyable, it lacks the propulsion of Crenshaw's vamp on the far superior Specialty disc. To hear how incendiary the Swans could be when Crenshaw got happy in the studio, check out the compilation's "Trouble in My Way."
Each track on Amen, Amen, Amen benefits from pristine reproduction, leaving the listener feeling as if he or she is in the studio with the quartet and musicians.
Avid gospel music collectors may already have most, if not all, of the selections on the CD, either on vinyl or on compact disc collections that are out of print.  On the other hand, for those who seek to update their collection or want a proper introduction to the Swan Silvertones, Amen, Amen, Amen is a fine exposition of a gospel quartet at its apex, at a time when gospel music was at its apex.
Five of Five Stars
Picks: "Brighter Day Ahead," "Trouble in My Way."