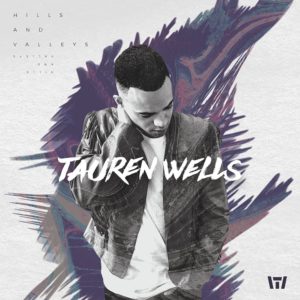 By Bob Marovich
"I hear so many stories about people who heard the right song at the right time, and it changed the trajectory of their life."
That's Tauren Wells' prayer for his first full-length solo album, Hills and Valleys, released by Reunion Records June 23. "I want [people] to walk away with something from every song," he told the Journal of Gospel Music the day before the album's release.
Former frontman of the GRAMMY-nominated CCM group Royal Tailor, Wells was born in Battle Creek, Michigan. His parents separated when he was young.  Later, when his father started attending church, he encouraged his son to accompany him and participate in Sunday school. It led to Wells' life-changing encounter with God. He was baptized, got active in the church, and fell in love with music.
"I loved being able to communicate to people through songs," he said. "The church created opportunities for people like me—at nine, ten, eleven years old—to sing and be involved."
When Wells was fifteen, the Battle Creek church's new pastor wanted him to lead worship, but first he needed to learn to play an instrument. Wells taught himself. "We had a bunch of keyboards at my house because my dad's a musician," he said.
He learned to play and sing the P&W chestnut, "Here I Am to Worship." Wells laughed. "I sang that song too many times over the next several months because that was the only song I knew how to play! I started writing my own songs because no one can tell if you mess up your own songs!"
The emerging worship leader also sat in on studio recording sessions involving Crème de Cacao, a band that included his father. "It deposited a love for what I'm doing now at a very early age."
Meanwhile, he absorbed the work of Israel Houghton, Marvin Sapp and Donnie McClurkin, and took his musical proclivities with him when he entered Indiana Bible College. It was there that Royal Tailor was born.
Wells said the group was organized out of a random idea he had to perform two of his songs at the college's pep rally. But he needed a band to do so. "So we got a couple of guys together and performed those couple of songs at our little gym."  It was a hit.
Royal Tailor signed with Essential Records. Their two albums, Black and White (2011) and Royal Tailor (2013), both received GRAMMY nominations for Contemporary Christian Album of the Year.  The CCM group, which included white and black artists, received Artist of the Year from the Gospel Music Association's Dove Awards. Google called Royal Taylor one of the top 50 bands under age 30. All this set the group on a fast trajectory to success.
"The touring schedule was insane," Wells reflected. "We were doing 150 shows a year."
While the road was heady for the young performer, it took its toll on his role as husband and father. He rued not being home for key moments in his newborn son's life. But to leave Royal Tailor every so often wasn't an option. "It's hard when you are considering the livelihood of three other guys, along with yours."
From the tug-of-war between the responsibilities of Royal Tailor and father/husband came his 2015 decision to become a solo artist.
"I had been married for four or five years at that point," Wells said. "We had an older son, who's four now. We were expecting again. I didn't want the first year of my second son's life to be like the first year with my first son. One of the most significant things about my dad is that he was always at everything. I want that to be the story with me and my sons. I know I can't be at absolutely everything, but if it's a key moment in my kids' life, I'm not doing anything.
"That, with what God was calling me to do in my ministry, factored into my decision to go solo."
Working with several co-writers and producers, Wells has poured his experiences into the songs that make up Hills and Valleys.
"The title is significant because it took hills and valleys to get to this moment in my life," he said. "It's about things I've gone through, things I've learned and I'm learning, things I'm growing in. When my wife first heard [the song] 'Hills and Valleys,' she said, 'I feel that it's a song that people need to hear.' As we chose songs for this album, I wanted to record songs that people really needed to hear. I want the collection of songs to resonate with people in the same way as 'Hills and Valleys' does."
He continued. "We all have to deal with where we are, being on a journey through very beautiful, yet treacherous, terrain. [Life] has these amazing high mountaintop moments that we all enjoy at some point, but also devastating lows that come in the same package. I wanted to communicate that throughout the entirety of the album."
Wells weaves together a colorful tapestry of contemporary sounds on Hills and Valleys.
"I learned a lot from [Royal Tailor], both relationally and professionally, but also I grew up on music that was timeless, like Michael Jackson, and black gospel, which has influenced R&B and hip hop. [Hills and Valleys] is my expression of all these things coming together."
Wells, who now lives in Houston with his wife and two children, said the album has received a great initial response.
"I hope that people feel like this album is their soundtrack, like 'how did you know?' The answer is, I didn't know, but I feel like God blessed me with some songs to share with people."
For more information, visit http://taurenwellsofficial.com.