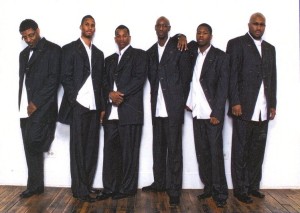 Young men with old souls.
That's how one might describe the Church Boyz.
Like Keith "Wonderboy" Johnson, the Church Boyz blend youthful energy with the gusto of classic male gospel quartet singing. The combination gives today's listeners a feel for what it was like hearing the classic groups in their heyday when they, too, were young and tearing up auditoriums.
Though they come from different churches and different denominations, the Church Boyz are from Chicago. The group is Rev. Eric Harris, Pastor Terrance Keys, Walter Gerald Hardy, Jeff Dagons, Maurice Anderson and Nicholas Miller. Hardy plays lead guitar for the group.
TBGB had a chance to talk with Rev. Eric Harris about the Church Boyz and their singles, "Great Things" and "I Found Someone."
How did the Church Boyz come together as a quartet?
Most of us grew up in the Baptist community, fellowshipping at each other's churches over the years. Then, two years ago, when I was a member of Mt. Vernon Baptist Church, we had a Men's Day program, and a group of us sung at it. People said we sounded good, so we decided to take it to the next level. We stepped outside Mt. Vernon and got Terrance Keys, Nick Miller and Jeff Dagons. The others are Baptist and Jeff is Church of God in Christ. We became serious about the music. We started rehearsing and blending harmonies.
You are young guys – what inspired you to sing in the old time style?
Being born and raised in the Baptist tradition of singing is what inspired our sound. I grew up listening to the Canton Spirituals and the Williams Brothers. There's something about that music that just hits home every time.
What other quartets have inspired you over the years?
We try to update the traditional down-home style of singing with a newer brand of music, like Darrell McFadden and the Disciples.
Tell us about your single, "Great Things"
I wrote "Great Things" two years ago, when I was praying for the Lord to do some great things in my life. Walter Gerald Hardy helped put the music to it and Pastor Keys, who is 34 years old, he sings lead.
Now, with the election of a new president, the song happens to be coming out at a perfect time. We're getting radio play on a variety of radio stations, here in Chicago and elsewhere. "Great Things" was on Chicago's V-103 and Inspiration 1390. Here we are, a new young group, no major record label, but "Great Things" is number 71 of the top 100 gospel singles of the nation.
Another one of your singles is "I Found Someone"
This song was written by Keys and Hardy. The message is based on what we'd been through, trying to find things to make us happy, whether it was clubs, dating. But when we found Jesus, we knew everything else would not be the same.
Where will you be performing next?
Our MySpace page has a list of all the places we will be performing.
http://www.myspace.com/thechurchboyzchicago
We performed at Kathy Lockett's Mother's Day program and Gospel Fest in Chicago, and have shared the stage with the Victory Travelers – lots of different groups.
Since we are faithful members of churches, we need to perform Saturday nights or at 6:00 or 7:00 p.m. Sunday evenings. We really can't take any Sunday afternoon jobs.
Do you have a full-scale project in the making?
The project is finished and should be released sometime in late March or early April of this year. We are working with an investor to create "Church Time Entertainment" and are also in negotiations for a distribution deal.
Once the CD is released, we want to be a blessing to the Kingdom of God, we want the music to be a blessing around the nation. We are young men who want people to know that you can be cool and fashionable, but in the end you are going to need Jesus. Also, no matter what is going on in your life, great things can come your way, but you have to believe it first.