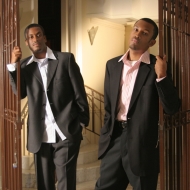 "Fisher of Men"
Batiste
From the DaMil Records CD Love is Your Greatest Gift 2006
www.batistemusic.com
DeLois Barrett Campbell believes that the Barrett Sisters blend harmonies so well because they are blood-related sisters. If kinship breeds quality harmony, it's no wonder brothers Lionel (Ray) and Lyndon Batiste create such a heavenly sound together.
Not steeped in the African American gospel experience – they grew up in the Roman Catholic Church – the brothers Batiste nevertheless call upon their RnB influences to soulfully render "Fisher of Men," a beautiful, meditative song with a lullaby-like melody. It's the kind of song that is likely to be covered by dozens of gospel and CCM artists in the years to come. Also guaranteed to inspire audiences coast to coast to raise hands and sway in place.