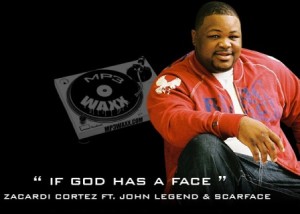 "If God Has a Face"
Zacardi Cortez feat. John Legend and Scarface
From the forthcoming Black Smoke Media CD
CoCo Brother Presents Gospel Mix Vol. V
(street date: September 27, 2011)
Zacardi Cortez, who sang the lid off of Andrae Crouch's "The Blood" on James Fortune and FIYA's The Transformation, teams with pop star John Legend and rapper Scarface to articulate what a lot of people may not say but sometimes think: we have faith in God, sure, but we "don't want to wait for my eyes to close" for Him to show His face. We want to see it today because "times get hard." Miracle, wherefore art thou?
Scarface raps assent, positing that if "he could play God for a day," he would not only turn the hearts of the hard-hearted, but he would also make the world a safer and healthier place to live. Excellent idea.
"If God Has a Face" is an in-your-face honest selection with a musical backbone that sounds like a blend of OutKast and Sting.