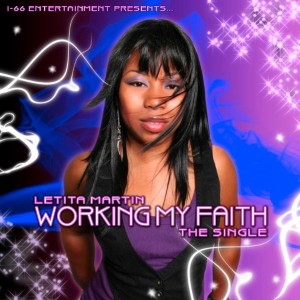 "Working My Faith"
Letita Martin
From the I-66 Entertainment album Take Me Somewhere Unexpected
(Single available on iTunes August 18, 2009; full album in stores Fall 2010)
Letita Martin of Rapid City, South Carolina delivers a song about finding and hanging onto faith despite life's challenges, and she does it with such an intense electronic backdrop and straight-ahead, driving dance beat that you know nothing can stand in her way even before she does.
The singer's rapid fire testimony to the difficulties of always seeing "the evidence of things unseen" propels the song with the right amount of tension between uncertainty and ultimate assurance.
"Working My Faith" will appeal to young gospel enthusiasts (and the young at heart) who are facing the same internal confusion but think they are alone in their struggle to find and keep the faith.