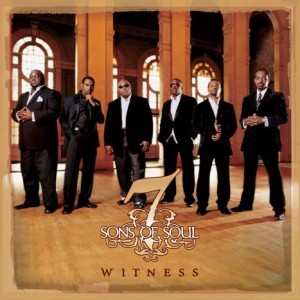 Witness
7 Sons of Soul
Zomba 2007
www.7sonsofsoul.com
From Washington, D.C., the 7 Sons of Soul – Cliff Jones, Dave Lindsey, Deonte Gray, Kenneth Epperson, Doug Hayes, and Sam Kendrick – blend today's beats with south of the Mason-Dixon line quartet singing, complete with backbeat, bluesy guitar riffs, lead trading, and hard singing.
In fact, on the mid-tempo "Clap Your Hands," the Sons sound eerily similar to the modern-day Supreme Angels or Violinaires. "Prayin' 4 You" could have been produced at Memphis's Hi Records by Willie Mitchell, it's that soulful. Speaking of soul, on "After-While," the lead singer channels Luther Vandross in a slow, emotive reading of a melody with a high tessitura.
"Thank You Jesus," billed as a tribute to the Dixie Hummingbirds, isn't performed in the 'Birds style, but its playful call-and-response lyric and heavy beat make it an effective track. On the other hand, "Trouble in My Way" is a cover of the Hummingbirds classic, albeit with a slower, bluesier reading than the Birds' frenetic 1952 disc. Clearly the 7 Sons know their quartet history.
The obvious single is "Don't Worry (He's on Time), a radio-friendly rouser featuring the classically-trained Richard Smallwood who, like Kendrick and Hayes, graduated from Howard University. Overall, Witness, the quartet's sophomore recording, makes for powerful good listening.
My only question is…there are only six members. Who is the 7th son?
Three out of Four Stars