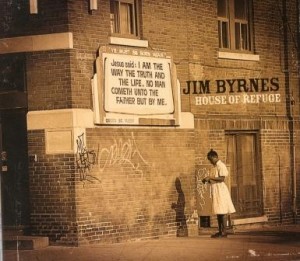 House of Refuge
Jim Byrnes
Black Hen Music 2007
www.blackhenmusic.com
If in the past ten to fifteen years, gospel's lyrical content hasn't strayed too far from its origins, its musical foundation sure has. North of the U.S./Canada border, it seems to have shed even more of its musical modesty, fraternizing openly with worldly sounds that church folk would have considered off limits back in the day.
Proof positive: House of Refuge from St. Louis-born and now Vancouver resident Jim Byrnes sounds like the Fairfield Four meets the Marshall Tucker Band over tumblers of Schwab's Memphis mojo. Byrnes whips gospel, jazz, blues, country, and soul into such a divine froth that the listener can't wait to savor the next track. Here Big Bill Broonzy's "Big Bill's Blues" is joined by Dorsey's "Today," and Robert Johnson's "Last Fair Deal Gone Down" conjures the ghost of Nashville's legendary disc jockey John "John R." Richburg, a reminder of Byrnes' earlier warning that we are "Running Out of Time."
The finest moment on the album comes right at the beginning, in the opening strains of the first track, "Didn't It Rain." The joyous a cappella harmonies of the Sojourners, a quartet composed of Marcus Mosely, Will Sanders, and Ron Small, kick off the project, setting the mood for the marvelous musical combination to follow. I wanted to hear much more of the Sojourners on the album; they deserve a project of their own, if they don't already have one.
Although House of Refuge is noted for its unusual repertory, the most curious addition is an easy-going rendition of Hoagy Carmichael's "Stardust," which must have been a special request. Byrnes' vocals bring forth the spirit of Louis Armstrong while instrumentally it's all about Willie Nelson. Of course, the juxtaposition makes sense, given Byrnes' eclectic but effective confluence of black and white roots sounds.
House of Refuge fits comfortably in the style of other Canadian gospel artists such as Danny Brooks and his fellow members of the NorthernBlues Gospel Allstars. This style of gospel is not clad in choir robes; it wears boots, and proudly so.
Three of Four Stars