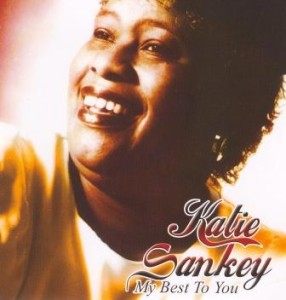 My Best to You
Katie Sankey
Meltone Records 2007
www.meltonerevue.com
Katie Sankey's voice is so large it can hardly be contained within the borders of her home state of Alabama, where she is a Jefferson County native. It's no surprise Katie won the Dorothy Love Coates Life Achievement Award at the 2006 American Gospel Quartet Convention: she reminds me of singers like Dot Coates and Ernestine Washington who didn't need a stage full of instrumentation to turn a church out.
The finest tracks on Katie's CD, My Best to You, released earlier this year on Melvin Couch's Meltone Records, focus on her God-given voice, with just a trickle of accompaniment (piano, organ, drums). These tracks include the traditional "I Don't Know Why," "He Touched Me," and "I Need Thee," though the background musicians do a fine job on "He Made Me," also known as "I'm Glad." Katie's rendition of "Battle Hymn of the Republic" sounds as if Ray Charles arranged it.
Other tracks, like "God Always" with its incessant disco beat, tend to distract from, rather than add to, the overall experience. Nevertheless, Katie sings with complete abandon, oblivious to the fact that the instrumentation on some tracks is completely out of step with her traditional sound.
Whether it's a hymn or gospel song, Katie Sankey sells it by squeezing every ounce of meaning out of it. The gospel world needs more singers like her.
Two and one-half of Four Stars