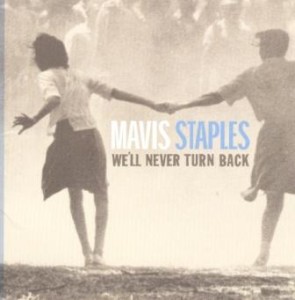 We'll Never Turn Back
Mavis Staples
Anti- 2007
www.mavisstaples.com
"It's the 21st Century – it feels like it's 1960!"
Mavis Staples' lament in "99 and ½," a track on her new project, We'll Never Turn Back, pretty much sums up the album's theme. A revisiting of the Civil Rights Movement's musical lexicon, We'll Never Turn Back is Mavis' chance to tell it like it was and is ("I wouldn't lie to you; I'll leave that to the politicians"), and to encourage people to again stand up for their rights.
Over the years, Mavis has developed an effective, gritty gospel cry-shout, perfectly suited to the content of this album, which seethes with rightful outrage and frustration. On "Down in Mississippi," Mavis sings about having to drink out of a "for colored only" water fountain in Jim Crow South. Back to "99 and 1/2": Mavis recounts how she was thrown in jail "by some Southern racist cop" in West Memphis, Arkansas during 1965, at the height of the Civil Rights Movement. The CD does have some lighter moments, as when Mavis sings about how as a little girl she accidentally integrated a local washeteria and became a hero among the locals.
Mavis' point, made most determinedly on "My Own Eyes," is that nothing has really changed since the days of Jim Crow, whether it's the state of education for poor African American children in Mississippi or the breached levee in New Orleans. Of the Crescent City, Mavis changes the focal point from "I saw it" to "We saw it" – accompanied by a marvelously wry gospel laugh – to hammer home the point that all of us witnessed the sloppy and indecisive handling of the Hurricane Katrina disaster by those elected to protect the people. At the conclusion of "My Own Eyes," Mavis heaves a soul satisfying sigh, not that things are any better, but that singing about it can soothe the spirit, even if only temporarily.
A testimony to their timelessness, many of the songs of the Civil Rights Movement started their life as spirituals or in dog-eared hymn books. Lyrics of songs in this project, such as "We Shall Not Be Moved," "This Little Light of Mine," and "Eyes on the Prize," are ancient but still apropos to the times. In the 1950s and 1960s, they energized the masses to undertake non-violent protests against people who were anything but. Their inclusion here is a not-so-subtle reminder that their messages are still valid today: it's high time to take a stand against injustice and political gamesmanship.
"I'll Be Rested" is the most haunting of the tracks. Central to the song is a litany of those who lost their lives during the Civil Rights era, including the four young girls killed in the 1963 Birmingham Church Bombing, the murder of the three voting rights workers in Mississippi, Emmett Till, Medgar Evers, and others who died supporting freedom. Mavis concludes the song with a reading of gospel pioneers who passed on, including Mahalia, Marion Williams, Archie Brownlee, and of course her father, Roebuck "Pops" Staples, who made it safely through the gates of Heaven, guitar and all.
Musically, We'll Never Turn Back glistens with the heavy humidity of an August mid-afternoon in the Deep South. Producer Ry Cooder manages an awesome cadre of artists, including South Africa's Ladysmith Black Mambazo and former members of the famous SNCC Freedom Singers who sing background and can testify to the truth told through the music.
We'll Never Turn Back could very well be the best release – gospel, roots, blues, or otherwise – of 2007. Certainly it's the most meaningful and relevant.
Four of Four Stars