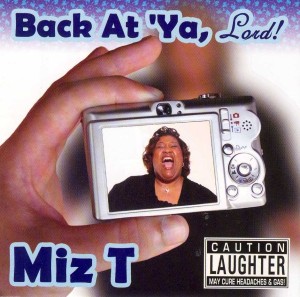 Back At 'Ya, Lord!

Miz T
Everybreath Productions 2008
http://www.miztgospelcomedienne.com/
Tranea' (known as Miz T) is a very funny lady. She has a comfortable and intimate rapport with her audience, which enjoys listening to her and laughing at the day-to-day situations that, in retrospect, really are pretty darned hilarious.
Miz T demonstrates that even something as serious as religion can be funny, and is full of wickedly humorous stories about preachers who mispronounce words and names in the Bible. And being a self-proclaimed "quartet girl" (her father sang in a quartet called the Soul Savers), Miz T earns plenty of cred with the church crowd.
Her CD, Back At 'Ya, Lord! doesn't do her justice, though. My basic concern is with the inconsistent sound quality, which makes some sections sound more like a demo than the finished product. Although some sections are very clear ("She's Too Ready" is the model of audio balance), others are so tinny that it's easy, and disappointing, to miss punch lines. Also, some of the tracks are just snippets of monologue, which prevent us from getting a better sense of the rhythm of her routine, which I suspect is quite effective live.
In addition, I wanted to see the visual humor that was clearly a part of her routine, which leads me to conclude that this project would be better served as a DVD instead of an audio CD. Perhaps a DVD is forthcoming. Let's hope, because better audio balance, a full-length soundtrack vs. snippets of humor, and the visual medium will make Miz T's Back At 'Ya, Lord! a real treat. Meanwhile, just book her for your next event!
Two of Four Stars