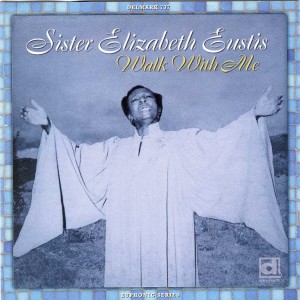 Walk With Me
Sister Elizabeth Eustis
Delmark 2000
www.delmark.com
New Orleans may be known for giving birth to jazz, but Crescent City musicians and vocalists also made important contributions to gospel music. Mahalia Jackson, Helen Robinson, the Jackson Gospel Singers, Zion Harmonizers, the Greater St. Stevens Choir, and many more from New Orleans praised the Lord in song.
So did Sister Elizabeth Eustis.
Sister Eustis can be heard on Walk With Me, a release of her May 2, 1962 recording session at 2nd Mount Olive Baptist Church in New Orleans. At the time, Paul Affeldt released just four tracks from the session on an EP for his Euphonic label. Thanks to Delmark Records, which mined the Euphonic vault for the goodies that lie within, the entire May 1962 recording date is now available, and on CD, no less.
The date brought the 63 year-old Eustis – by then a prolific recording artist with small, local labels – together with pianist Richard Peterson, organist Ruby Mae Summers, John Joseph on bass, and Alberta Mills on second vocals, along with a small, mixed group of background singers. Peterson pounds out bright, lively jazz runs reminiscent of the 1930s. Most gratifying is the steady beat: Joseph's bass, along with the ensemble's tapping feet, lend a clumping stomp rhythm to many of the songs. Eustis' alto is direct and matter-of-fact, combining Gertrude Ward's smoky timbre with Sallie Martin's knack for the preacher's timing.
Affeldt selected the four best performances for the EP, namely "The Last Mile of the Way," "Just A Little While to Stay Here," "He Knows My Heart," and "Lord, Lord, Lord." Sister Eustis' take on the spiritual "Joshua Fit the Battle of Jericho" and the title track are just as enjoyable, however, even though they were not released at the time.
Lynn Abbott's liner notes on Walk With Me are superb, providing a brief bio on Eustis, a licensed evangelist who made her first recording in 1947 – at the age of 48 – for the Harlem label.
The only element missing from the project is an appreciative audience. Since the session was recorded when the church was empty, there is no applause, no grateful shouts of "Amen," "Hallelujah," or "Sing, Sister!" from a satisfied congregation. Live audiences can electrify a gospel performance in ways rarely accomplished by other styles of music.
Nevertheless, Walk With Me is a fine example of how gospel, New Orleans-style, could infuse music of the heart with the rhythm of the streets.
Three of Four Stars