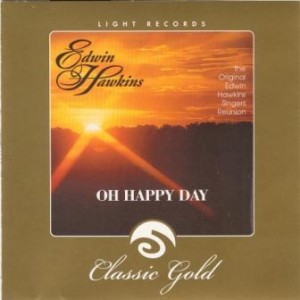 Oh Happy Day Reunion

The Original Edwin Hawkins Singers
Light 2004 (originally released in 1992)
http://www.lightrecords.com/
OK, I admit it: I am not a fan of the early '70s contemporary gospel scene, so I wasn't sure if I'd enjoy this project. Suffice to say that I enjoyed it very much, far more than I thought I would.
Light's 2004 "Classic Gold" reissue of the Original Edwin Hawkins Singers Reunion, a recording released originally in August, 1992, showcases an ensemble that sounds as fresh and energized as it did when it cut the genre-bending LP that went from private fundraiser to international blockbuster in 1969 with the release of the smash single, "Oh Happy Day."
A subtle but gratifying aspect of the CD is that the introductions, testimonies, and other speaking parts have been eliminated in favor of no-nonsense singing. Some tracks – such as the iconic "Oh Happy Day" and the musically superior "I Heard the Voice" – are presented in bite-size chunks of a couple of minutes each, keeping the performance rolling seamlessly ahead. Meanwhile, Sylvia Guiton's thoroughly sanctified reading of "I'm Going Through," complete with false ending, gets nearly six minutes of play, which it deserves, being the most emotionally charged performance on the disc.
Two other performances of note are "Listen to the Rain," and "Jesus, That's My King." Led by Walter Hawkins and Jewell Pittman, "Listen to the Rain" is an Edwin Hawkins re-arrangement of Roberta Martin's original take on the spiritual. "Jesus, That's My King" is a straight-ahead Holy Ghost stomp worthy of putting on "repeat."
Of course, the solo voice of "Oh Happy Day," Dorothy Morrison, isn't present, but nevertheless, this is a satisfying aural snapshot of a group that proves that more than two decades of singing hadn't burned them out. On the contrary, they sound better and stronger than ever.
Three of Four Stars