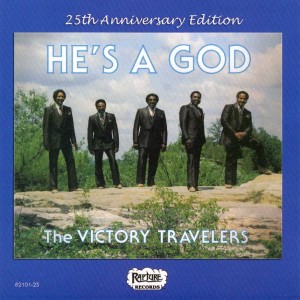 He's a God
(25th Anniversary Edition)
The Victory Travelers
Rapture 2007
Just about every one of the eight tracks on the 25th Anniversary CD Edition of the Victory Travelers' He's a God, their debut album for Gene Strawhun's Rapture Records, is hard-charging, powerful, going-to-church quartet excitement. The rest of the songs are deep and bluesy, suggesting that the quartet hails from the Deep South when, in fact, it is from Chicago.
Deacon Reuben Burton leads on most of the songs, with "(I Signed a) Contract with Jesus" being the best on the set. Cris Johnson (of the Righteous Singers) provides killer electric guitar behind this and other songs throughout the project. Aubrey Morris is no slouch on the drums, either. His energetic playing and cymbal crashing add a dramatic flair to the session.
What's especially gratifying about this reissue is to hear an honest-to-Pete horn section, complete with trumpet and saxes, not the keyboard-produced synthetic horn sound that is de rigour in gospel music today and seems out of place in a genre that shouts authenticity. The difference is significant: real brass adds color and character to the music in ways the electric synthesizer cannot.
Deacon Burton has weathered many personnel changes in the Victory Travelers to keep the quartet going strong well into the new century (for example, Joyce Collins, a vocalist on this project, has since passed away). With some young fellows in its roster keeping the tradition going, the Travelers still dump house on its competition. Listening to He's a God, you know the group was dumping house 25 years ago, too.
Four of Four Stars