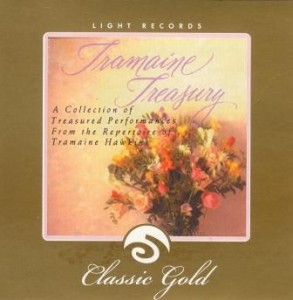 Tramaine Treasury
Tramaine Hawkins
Light Records 2004
www.lightrecords.com
Edwin and Walter Hawkins may have smoothed the edges of gospel music with jazz chords and soft-rock arrangements to render it more appealing to the masses, but Tramaine's churchy shouting was a constant reminder of its raising.
A product of the Church of God in Christ, Tramaine Hawkins (nee Davis) recorded her first single at the age of ten as a member of the Heavenly Tones. She later sang with the Northern California State Choir, where she was in the right place at the right time: the magical moment in 1968 when Hawkins' "O Happy Day" became a crossover classic. When the choir reorganized as the Edwin Hawkins Singers, the COGIC soprano remained with the group, becoming its star vocalist.
The best tracks on this Light Classic Gold compilation are those Tramaine sings with Walter Hawkins and the Love Center Choir, particularly the marvelous "Changed" and her magnum opus, what I consider to be one of the 100 best gospel songs of all time, "Goin' Up Yonder." The latter gave the listener an opportunity to hear all the colors in Tramaine's vocal repertory, from her sweet melodic reading of a lyric to church wrecking preaching and shouting.
"Call Me" hearkens back to gospel's thankfully brief, misguided dalliance with disco. Other tracks are from her earlier solo days with Light/Myrrh in the late 70s and early 80s.
Of course, since the CD is limited to Light Records property, the listener will not find some essential Tramaine tracks, including 1986's "Fall Down," which singlehandedly made it to the top of the dance charts and put Tramaine at loggerheads with traditional gospel fans. Regardless, it's important that some of Tramaine's vinyl work is making it onto CD for a new generation of gospel fans to enjoy.
Two and one-half of Four Stars