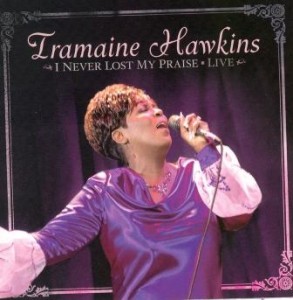 I Never Lost My Praise – Live
Tramaine Hawkins
Gospocentric Records/Zomba Label Group 2007
www.gospocentric.com
At the beginning of her new live recording, Tramaine Hawkins is introduced as the "greatest female voice to ever sing gospel music." Such hyperbole probably makes Tramaine blush, since that eliminates other towering giants of the genre such as Mahalia Jackson, Marion Williams, and Willie Mae Ford Smith. Regardless, Tramaine has a marvelous voice and stage presence, and certainly hasn't lost her praise or her energy.
I Never Lost My Praise – Live was recorded on February 18, 2006 at Reid Temple AME Church in Glenn Dale, Maryland (Rev. Dr. Lee P. Washington, Pastor). Tramaine turns the power up right from the start with an anthemic-like reading of "Excellent Lord," complete with a marching-band beat and exuberant instrumental accompaniment. While introducing "You Get the Glory," Tramaine talks about doing some old-time traditional singing "like when the choir would march down the aisle." Although this song's arrangement doesn't seem one bit old-school, Tramaine's Patti LaBelle-like high notes and trademark melismatic singing infuse it with plenty of COGIC magic.
Gospel superstars Kurt Carr and Richard Smallwood lend their estimable talents to the live project, as do members of Tramaine's family. In fact, Tramaine's son Jamie is musical director and daughter-in-law Sunny contributes vocals; both handled some of the writing, too.
The hands-down highlight is the title track, written by Kurt Carr and rendered flawlessly by Tramaine with superb background vocals from Patrick Lundy and the Ministers of Music. More than any other track, "I Never Lost My Praise" builds perfectly in intensity and emotion – just like a good sermon – until the live audience can't contain themselves and is up and shouting well after the song is over. Definitely a single deserving of a Stellar nomination, if not also a Grammy.
Before she does her "own version" of the iconic crossover hit "Oh Happy Day," Tramaine sings "I Need You," a soulful melody with crossover hit written all over it. "Like Never Before" brings Lundy and the Ministers of Music back. At the end of this track, Tramaine calls for a little "COGIC style" ending, and the musicians quicken the tempo accordingly.
I Never Lost My Praise – Live is nicely constructed and shows that after more than forty years in the gospel spotlight, there's no stopping Tramaine. The title track alone makes this project worth a listen.
Four of Four Stars