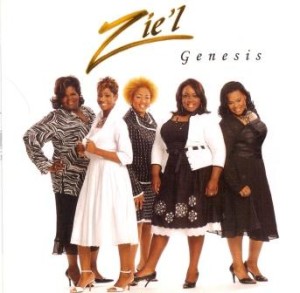 CD Review:
Genesis
Zie'l
Light Records 2006
www.myspace.com/officialziel
Recall my blog entry from December 2005…
http://blackgospel.blogspot.com/2005_12_01_blackgospel_archive.html
…when I predicted that Zie'l would be a group to watch in 2006. Having heard the five women from Shreveport, Louisiana sing at the 2005 Gospel Music Workshop of America, I knew Zie'l exuded talent. They could present traditional and urban gospel with equal zest. For me, their live appearance was one of the finest surprise moments of the convention.
Genesis, Zie'l's 2006 release for Light Records in association with Gospel Warehouse Records, was clearly crafted to showcase the group's urban gospel side. Producer Derek Clark of Hitland Entertainment all but telegraphs this point by piping in at the end of the first track, "Send Me," with a spoken salute to the pioneers of the "urban gospel movement," including Fred Hammond, Kirk Franklin, PAJAM, and Mary Mary.
Echoes of another female group, Virtue, resound throughout each of the nine musical tracks on Genesis, with "Can We Get Away" and "I Love You So Much" proving to be the jazziest tracks. The two songs hang on a sacred quiet storm groove, and are only a couple of lyric changes away from complete transformation into scorching love ballads.
My favorite (and it would be, wouldn't it!) is "Surely God is Able," James Cleveland's variation on a theme from Rev. W. Herbert Brewster, though a close second was Ziel's take on Twinkie Clark's "Is My Living In Vain?" While a much different and earlier version, rendered by Mahalia Jackson, asks the question rhetorically, Clark's more contemporary composition answers it with an emphatic, "No, of course not!" Zie'l punctuates the point with no-nonsense harmonizing.
The tenth track is a real (or possibly simulated) five-way telephone conversation between members of Zie'l that might have been better served as a hidden track, as it doesn't really add much to the overall project. Instead, I would have loved to hear the group close Genesis with a traditional-style piece in the manner of RiZen's "View the City," to truly showcase their versatility.
It's hard not to like this effervescent quintet, no matter what style of music they sing, but I do hope the next Zie'l project incorporates at least one old-time church wrecker. Pretty please?!
2 of 4 Stars