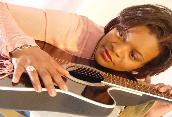 TBGB Spotlight: C.D.W. Music Group
www.cdwmusicgroup.com
C.D.W. Entertainment and Recording Studios ("Christ Doing Wonders") is also a record label and songwriting concern based in St. Louis, Missouri.
The C.D.W. label's current roster of gospel artists features an amalgam of sacred styles: from the neo-soul vocals of singer-musician Cherie Whitt (photo, left) and Holy Hip Hop artist N.O.T.E. (Not Of This Earth) to the contemporary crooning of singer and playwright Kenneth Kibby.
The title track of Cherie's Beautiful, her sophomore album due out in January 2010, is a smooth groove reminder that each one of us is perfectly and wonderfully made.
N.O.T.E., a well-known at-risk youth counselor and coach from St. Louis, rhymes about God's saving power over easy beats on "Magnificent."
Kibby's "I'm Determined" from his album The Verdict, is the best of the bunch. The singer cries out his commitment "to do your will…do whatever you say" in old school soul fashion, complete with a pleading, down-on-your-knees-with-hands-clasped falsetto. Guaranteed to bring the congregation to its feet in encouragement and admiration.