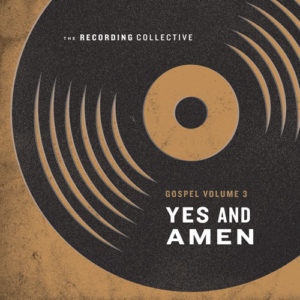 The Recording Collective
Yes and Amen
(release date: February 8, 2019)
www.therecordingcollective.com
By Bob Marovich
The Recording Collective is a largely (perhaps intentionally) anonymous ensemble created by MultiTracks.com, a company that has for more than a decade provided churches with Clicks, Loops, and multi-tracks to give their amateur musicians a professional-sounding sonic boost.
Yes and Amen in the third volume in the company's series of albums and EPs designed, according to The Recording Collective's mission statement, to "be a resource to worship leaders and listeners in multicultural congregations around the world."
Named for the Bethel Worship hit that is among the EP's five-song selection, Yes and Amen has a utilitarian task similar to that of MultiTracks.com: to imbue congregation favorites from today's top Christian songwriters with equal doses of CCM and gospel so pastors have material that appeals to their multicultural congregations.
The EP accomplishes its mission. The songs share a gutsy P&W vibe, courtesy of a robust rhythm section and arrangements that follow gospel's longstanding blueprint: build vocally and instrumentally from peaceful to a fiery apex, then finish with a deceleration of energy, like the cool down a racer experiences after crossing the finish line.
For example, there's racing fuel in the arrangement of Hillsong Young and Free's "Love Won't Let Me Down," and Cory Asbury's popular "Reckless Love." Similarly, "Who You Say I Am" and "What a Beautiful Name" replace the Coldplay-like indie rock sensibility of the originals for a more rhythmic underlayment. All this is facilitated by the EP's Grammy Award-winning producer Chris Baker.
The best part of the project is hearing what technology cannot replicate: the lovely and passionate vocals of Charlin Neal (Israel and New Breed) on three tracks and Onaje Jefferson (Brooklyn Tabernacle Choir) on the other two. Neal in particular shines on "What a Beautiful Name." She deftly weaves the pretty melody through the complex arrangement with ample harmonic support.
Three of Five Stars
Pick: "What a Beautiful Name"