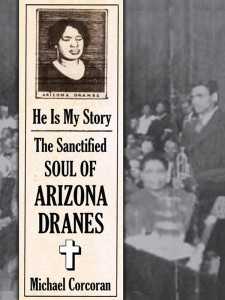 Michael Corcoran
He Is My Story: The Sanctified Soul of Arizona Dranes
Tompkins Square (available September 4, 2012)
In He Is My Story: The Sanctified Soul of Arizona Dranes, Michael Corcoran unearths more details about gospel's first recording artist than has ever been collected and written before.
The former music critic and columnist for the Austin American-Statesman puts Dranes' history together with painstaking detail, and he has the journalist's flair for weaving a story that fascinates and informs at the same time.
To properly understand Dranes' place in music history, one must consider what comprised African American sacred music on record prior to Dranes' first recording session in 1926. Before Dranes, the catalog was replete with jubilee quartets, even-mannered preachers, and overly ululating vocalists singing hymns in the conventional classical style. Then here came Arizona Dranes, a house afire, from the Church of God in Christ, shouting verses like a breathless evangelist and pounding out piano riffs like Scott Joplin meets Willie "the Lion" Smith.
If gospel music is a conjunction of what Pearl Williams-Jones described as a "body of urban contemporary black religious music of rural folk origins" with what Eileen Southern called "marked syncopation and percussive instrumental rhythms" and, wrote Horace Clarence Boyer, the emotive impact of the singer, then Dranes is all that and a holy shout. Corcoran's book notes that Dranes' records even gave Thomas A. Dorsey, the Father of Gospel Music, added hope that his own amalgam of hymnody and jazz/blues was not so far-fetched after all.
In this book and CD combination–Tompkins Square's first such combination–Corcoran shares a great deal about Dranes' early life as a traveling musical evangelist, providing the soundtrack for COGIC pastors to plant churches in step with the migration of southern African Americans. She recorded in the late 1920s and never again, but remained active as a faithful COGIC musician and worker. Her later years found her in California, fellowshipping with her longtime friend, Bishop Samuel Crouch, whose nephew Andrae' was about to usher in the contemporary gospel sound. She died in 1963.
The book also includes some of the only known photos of the enigmatic artist whose piano was the opening salvo in the modern gospel music revolution.
If you already have the Arizona Dranes collection on Document Records, never fear. Her sixteen OKeh titles are expertly remastered from the original OKeh label 78 RPM records by Grammy-winning producer Christopher King. Not only does King ensure that they play at the correct speed—76.5 RPM, which is what they were originally recorded at—but he also eliminates so much surface noise that the music, especially Dranes' piano, literally pops out of the speaker.
He Is My Story is essential reading for gospel fans, pre-war jazz and blues enthusiasts, church historians, and may well be the best historic gospel music compilation this year.
Five of Five Stars