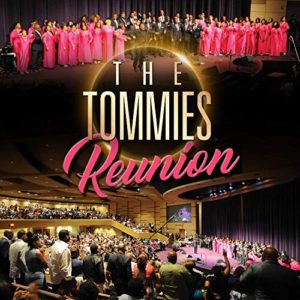 The Tommies Reunion
Seven Legend Group / JMG Entertainment / Tyscot Records
(release date: February 22, 2019)
www.tyscot.com
By Bob Marovich
At their apex, Chicago's Thompson Community Singers—known affectionately as the Tommies—were one of the most emulated gospel choirs in the country. Music ministers couldn't wait for the next Tommies album to hit record stores so they could buy it and glean new gems to teach their own choirs.
Having just surpassed the seventieth anniversary of their formation by the late Reverend Milton Brunson, the Tommies are back with their first new album in a decade. The Tommies Reunion choir is comprised of some of the principal singers, songwriters, and musicians who helped catapult the group from west side warriors to national acclaim.
Though the names are quite familiar—Darius Brooks, Percy Bady, Leanne Faine, Kim McFarland, Kevin Brunson (son of the founder), to name a few—the songs on the album, unlike the previous Tommies reunion projects, are newly-composed.
The current single, Percy Bady's "He Worked It Out," is spit-polished and ready for radio, but the songs that truly remind me of the ultimate "Safe in His Arms" Tommies ensemble are "Still Faithful" and "Shout." Legendary gospel squaller Kim McFarland–the first gospel singer I ever saw live–gives Bady's "Still Faithful" the kind of incendiary reading that thrilled listeners then and now (the recording's live audience responds accordingly). "Shout" is a more than six minute Chicago-style praise break with lyrics sung breathlessly by Denise Battle.
"Love Never Dies," another Bady composition (he also contributes lead vocals on the song), is the most musically interesting selection on the album. The political and spiritual messages in this majestic ode to the conquering power of love are made all the more memorable by the fascinating changes in tone color.
Other songs on the album don't have that Tommies oomph as much as these do. For example, "Depending on You" fits lead singer Leanne Faine's old-school style in message, but the contemporary arrangement doesn't take full advantage of her vocal power.
Nevertheless, the album demonstrates that the Tommies Reunion choir has retained the controlled energy of its predecessor and, true to its tradition, offers music ministers new works for consideration.
Four of Five Stars
Picks: "Love Never Dies," "Still Faithful," "Shout"