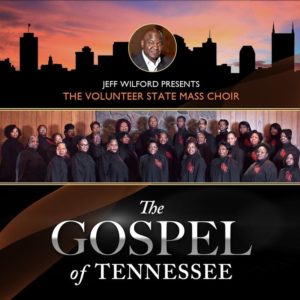 Jeff Wilford Presents
The Volunteer State Mass Choir
The Gospel of Tennessee
www.VolunteerStateMass.com
By Bob Marovich
Ten years after their establishment by gospel music industry and retail professional Jeff Wilford, the Volunteer State Mass Choir makes its debut on CD with The Gospel of Tennessee.
Waiting to gel in tone and texture before releasing a full-length recording has paid off for the Volunteer State Mass Choir. The Gospel of Tennessee showcases a group that has its swagger together, whether on P&W pieces such as "Fresh Oil" or on aisle stompers such as "I Forgot Just Who I Am," featuring feisty hard lead singing from Adriann Lewis Freeman. With only a piano for accompaniment, the choir demonstrates how "Do This In Remembrance of Me" is an ideal piece for a high school or college choir.
Most of the songs on the album are steeped in the traditional churchy sound. Propelled by blue notes and a warbling organ, "Oh To Be Kept" is a hymn in "gospel waltz," or 12/8, time. "Jesus Is Real" provides a similarly slow, bluesy feel to its message of devotion. "He's Working It Out," led by Frieda Boyle, also contains that wooden church feel. The choir members highlight their old school focus by keeping the beat with their feet on "Lord Watch Over Me." Patrick Sorrell introduces the song as taking him back to "Mount Sinai Baptist Church" and "Deacon Pettigrew" lifting the hymn.
"Jesus Is Real," a JGM Pick of the Week in February 2015, is also included on the new CD.
With new robes but an old soul, the Volunteer State Mass Choir, based in Nashville, will draw appropriate parallels to Mississippi Mass Choir and Chicago Mass Choir, and has the potential to become a peer of these established ensembles.
Four of Five Stars
Picks: "I Forgot Just Who I Am," "Oh To Be Kept."