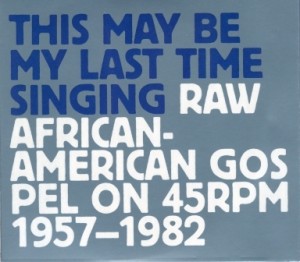 Various Artists
This May Be My Last Time Singing:
Raw African-American Gospel on 45 RPM 1957-1982
Tompkins Square 2011
http://www.tompkinssquare.com/
By Bob Marovich for The Black Gospel Blog.
Imagine yourself diving head first into a crate packed with dusty 45 rpm vinyl records of gospel music.
Not the hits of the day – not the Gospel Harmonettes, Gospel Keynotes, Davis Sisters or the Caravans – but quartets, trios, duos, singers, preachers and choirs you may not be familiar with, artists whose renown didn't reach beyond their city or region. They sold their discs whenever and wherever they ministered in song. Some artists were fortunate enough to secure interest from a large indie label or a decent distribution deal, only to sink quickly into the nether regions of memory.
These are the records assembled on This May Be My Last Time Singing, the three-CD follow-up to gospel collector and enthusiast Mike McGonigal's critically-acclaimed collection, Fire in My Bones, also a three-CD set on Tompkins Square.
It offers 72 selections from gospel music's massive marginalia, many from artists who took advantage of recording's DIY environment to put their own music out. Nestled amidst this assortment of artists, which runs the gamut from professional (Zion Travelers and the Clefs of Calvary) to locally prominent (Joiner's Five Trumpets) to amateur (Brother Clark & his Trio), is a dizzying array of performance styles from gospel artists and preachers linked by their genuine religious zeal and desire to go all-out for the Lord.
Some amazing gospel music appears on smaller labels, however, and this set includes such thrilling performances as the Southland Singers' jumping "Save Me Jesus" (Hi-Way, ca. 1963) and "All Wrap Up in One" by the Floridian Otis Wright and the Spiritual Harmonizers. The Zion Travelers' "Milky White Way" (Excell) is a marvelous version of the Trumpeteers' classic original, a song arranged by gospel chorus pioneer Professor Theodore Frye and covered by Elvis Presley. "If It Wasn't For the Lord What Would I Do" by the Cumberland Rivers of Detroit (Kable) has a melody that echoes the proto-soul of its day. It is a fantastic single that has withstood the test of time.
Other selections on the set are by ensembles with more enthusiasm than skill. For example, Brother Clark and His Trio's "Send the Holy Ghost Down" would have been outstanding were it not for one very off-key voice in the trio. The electronic drum machine on the Sounds of Soul's "Perfect Like the Angels" obfuscates former Gary Echoes of Eden member Selma Kirkendall's stunning old-school gospel vocal.
McGonigal's wry sense of humor but genuine respect for the music come through in the accompanying booklet. He does an admirable job cleaning up the original discs that serve as the source material, some of which undoubtedly needed deep groove scrubbing after years of wear and love.
This May Be My Last Time Singing underscores how seemingly infinite is the number of small-run gospel singles, and what would be lost were it not for people like McGonigal who dive head first into crates of gospel records, pull several to the surface, and ensure they see the light of day.
Four of Five Stars