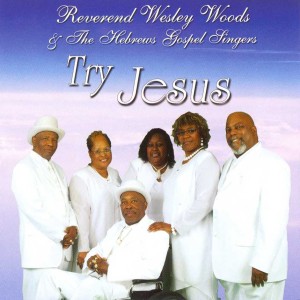 Reverend Wesley Woods & the Hebrews Gospel Singers
Try Jesus
G.C. Productions 2008
www.hebrewsgospelsingers.com
Try Jesus, the latest release (April 2008) from the Houston-based and Stellar-nominated Reverend Wesley Woods & the Hebrews Gospel Singers – their seventh, if I'm counting correctly – blends Southern-fried traditional quartet singing with the fiery, keyboard-accompanied mixed voice gospel sound that came to prominence in the late 1950s and 1960s.
Although the singers on Try Jesus sound a tad tired and rough-edged at times – the tracks are hit and miss as a result – they make up for it with soulful enthusiasm. The song choices and performances are nevertheless genuine and remind the listener of being at a Sunday afternoon quartet program.
Quartet fans will be pleased with the title track, as well as with the engaging "Call Your Name," "When I Meet Jesus," "I'm So Glad" and "Ain't No Love." "I'm So Glad" has the most radio potential because of its rollicking rhythm, laid-back vocal, interpolation of a couple lines of melody from Rev. Cleavant Derrick's "Just a Little Talk with Jesus" in the verses, and its steady driving vamp.
In terms of production quality, Try Jesus has smidgeons of hiss and buzz behind the singing that's most discernible during the fading of every track, but they don't detract from the listening experience.
Along with Reverend Woods, the Hebrews Gospel Singers are Alberta Williams (who shares lead vocal responsibilities with Woods), Lois Bethel, Ola Waters, Rev. Roy Harrison and Joseph Taylor. The group was organized in 1994 and waxed their first album, Call Your Name, two years later. The group has shared the stage with Keith "Wonderboy" Johnson, the Spiritual QCs, and the late Howard "Slim" Hunt and the Supreme Angels, to name a few. They have been nominated twice for Stellars, once for their CD Sinner Man (Traditional Quartet Group, 2003-2004) and again in 2006-07 for Live In Houston.
Two of Four Stars