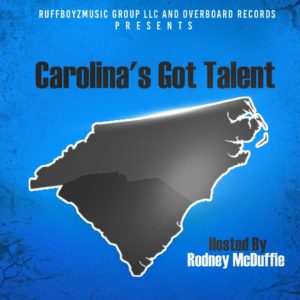 Various Artists
Carolina's Got Talent
Ruffboyzmusic Group LLC and Overboard Records
(release date: April 17, 2020)
By Bob Marovich
From the looks of the Billboard gospel charts, you might think traditional gospel music is dead and gone, but that's not the case.
In the Carolinas, for example, plenty of wooden church-honed singers, groups, and quartets are active. But hearing many of them means traveling to the Carolinas to attend the multi-artist gospel programs hosted by local radio stations. With 90% of the country in stay-at-home mode, the multi-artist program has to come to you.
A sampling of the traditional sound coming out of the Carolinas is available on a various artists project called Carolina's Got Talent.
No new age Christianity on display here. The lyrics are straight outta old-fashioned religion. The singers call on Jesus or tell the listener about the importance of calling on Jesus. The album reminds me of the various artist gospel cassettes—yes, I remember cassettes—that you could purchase at small stores in the South.
On the whole, the groups, mostly indie artists, are very good and give a fine program. Angela Bonaparte encourages everyone to celebrate on "Let's Have a Good Time." Perkins & Envision squall through "Call Jesus." Particularly strong tracks include Ricky McDuffie & the Family's smooth quartet piece, "He Keeps on Making a Way for Me" and Roxboro, North Carolina's Loving Sisters' soulful "Turn It Over." Rolajuwon & Nu Direction of Lancaster, South Carolina, delivers the album's sole drive cut, "It's Me."
The Gospel Prophets' loping update of the folk spiritual "Trouble Don't Last Always" is particularly prescient. An important word of encouragement for such a time as this.
Three of Five Stars
Picks: "Turn it Over," "He Keeps on Making a Way for Me"