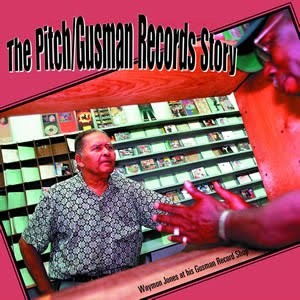 Various Artists
The Pitch/Gusman Records Story
Big Legal Mess Records 2009
www.biglegalmessrecords.com/pitch.htm
We must have been very good boys and girls this year to merit yet another multi-CD collection of out-of-print indie gospel recordings.
Truth is, The Pitch/Gusman Records Story might never have happened at all if it weren't for the passion and dedication of John Glassburner. Glassburner is one of the friendliest and most generous gospel record collectors out there. He called on a coterie of collector friends from around the world to pull together as many Savannah, Georgia-based Pitch and Gusman 45 and LP releases as possible. After cleaning, the collection was organized into a three-CD set complete with an informative, illustrated booklet written by author and gospel music historian Alan Young. Thanks to Big Legal Mess, the compilation is available commercially.
In 1967, Waymon "Gusman" Jones opened a record store in Savannah and soon after began recording local gospel quartets, family groups, church soloists and singing evangelists. He purchased the Pitch label, which had already released a half-dozen quartet recordings, including by the Golden Stars of Greenwood, SC, whose lead singer, Norris Turner, is the best-known artist represented in the collection. From this base, Jones released dozens of 45s and a few LPs on his Pitch and Gusman imprints.
The first CD is the most striking because it includes the pre-Jones Pitch recordings as well as Jones' earliest productions. The songs on this disc crackle with the raw, palpable energy of dynamic, hair-raising quartet singing by groups such as the Golden Stars, Six Voices of Zion, and the True-Tone Singers. The Pitch/Gusman Records Story collection also includes slow, soulful, more modern gospel ballads, such as "Jesus is Coming Again" by the Fantastic Melodyaires of SC, and the Six Voices of Zion's later offering, "He'll Help Me Along the Way."
Evangelist Loretta Myles delivers frenetic Pentecostal preaching and singing on "God is Not Dead," and The Phillip's Special sings the COGIC classic "I'm a Soldier" in characteristic uptempo fashion.
In the liner notes, Young points to difficulties in fixing exact dates to some of the recordings. His challenge is aurally evident when most of the recordings, including those identified as from the 1970s, sound fifteen to twenty years older in style and sound fidelity. Some are, in fact, older; others are examples of how some groups stayed true to their old-school sound well after the Hawkins Revolution.
The Pitch/Gusman Records Story is a splendid example of the variety and quality of recorded performances that even a small proprietor could capture back in the day, before videos (all but) killed the radio star and small labels. It is also ample proof for why John Glassburner and his co-producers deserve to be write-in candidates for a Grammy Award.
Four of Five Stars