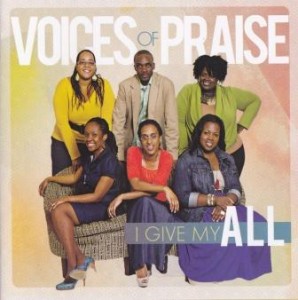 Voices of Praise
I Give My All
Voices of Praise (2012)
http://www.nyvoicesofpraise.com/
By Bob Marovich for The Black Gospel Blog.
Organized in 2000 by Delmark Joseph out of the First Wesleyan Church of Brooklyn, Voices of Praise is now a sextette that represents several different churches and whose members write original songs. I Give My All is the group's new CD.
What's immediately notable about Voices of Praise is its deliciously sweet harmonies. The blend is bright and fresh-faced, like Forever Jones or the Irish pop group the Corrs. Old-schoolers like me hear something of the folk group the Seekers in the Voices of Praise's crisp tonality. Their harmonies are so tight a thin razor could not fit between the notes.
The album's songs come from the pens of group members, with Marisa Joseph contributing the album's two finest tracks, "Owe It All" and "I Give All of Me." Both are representative of the group's CCM-inflected pop melodies with contemporary gospel underlayment and a smidgen of Smallwood in their semi-classical flourishes. Despite the uncomplicated melodies—"The Heart of the Father" is as straightforward as it gets—I Give My All suggests the group has had classical music training. Bobby Soverall's solo piano variation on "I Give All of Me" is ample testimony to that.
The lyrics are almost uniformly about praise and adoration, though "The Heart of the Father" and "My Word" find the soul struggling for salvation in times of trouble.
While the first few tracks on I Give My All are the strongest, with the light Caribbean beat of "My Strength" setting the mood, all of the songs and performances on the album are as likely to please members of liturgical churches as those who prefer more demonstrative worship services.
Three of Five Stars
Picks: "Owe It All," "I Give All of Me."