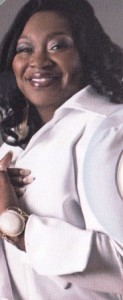 "Waiting"
Carolyn Traylor
Malaco Records (2012)
www.malaco.com
Carolyn Traylor ("There's A Story Behind My Praise") is waiting for her change to come.
She knows it's on the way, too, because whenever she gets discouraged, "I pull out the resume and I see how you always brought me through."  If that isn't enough, she adds, "I'm not going to let you go until you bless me."  So don't get between Traylor and her blessings!
Hailing from Greenville, Texas, Traylor is a traditional gospel singer who has sung with the likes of Dorothy Norwood, Ambassador Bobby Jones, and the late Albertina Walker.  Her gospel blues vocals on "Waiting" combine the folkiness of Tracy Chapman and the world weariness of Mavis Staples with the evangelistic fervor of Lemmie Battles.