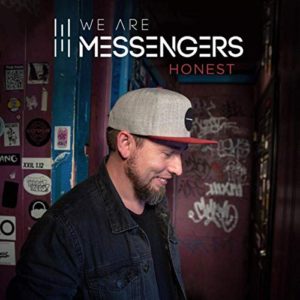 We Are Messengers
Honest (EP)
Curb / Word (release date: March 29, 2019)
www.wearemessengersmusic.com
By Bob Marovich
From the start, We Are Messengers minces no words.
On the opening and title track of the new EP Honest, the Christian combo from Co. Monaghan, Ireland, expresses the age-old challenge of growing up. The transition from a childhood of innocence to an adult life brimming with grey areas is one that nobody wants to admit is personally difficult to navigate.
We Are Messengers, on the other hand, instructs that transparency in this regard is not only important, it's essential. "Raise up your voice if you have truth that you need to tell," the charismatic lead vocalist Darren Mulligan declares.
It's an especially poignant message in a time when news is called fake and fakeness is called news.
The follow-up to the group's self-titled 2016 debut, Honest is packed with sincere introspection, though the concerns, as the title track argues, are universal. For example, "Abide" depicts the internal battle between the angels of our better nature and the devil perched on our shoulder. But on "Maybe It's Ok," the EP's initial single, the group praises a God who holds the stars in alignment while also holding our lives together when we are broken.  In other words, we don't have to be perfect, just truthful.
The prime appeal of We Are Messengers is that it bathes its messages in Adult Alternative melodies and musical and vocal arrangements—as if Hillsong, Imagine Dragons, and Ed Sheeran held a jam session. Similarly, the group's lyrics apply hope and encouragement to the mental and emotional conflict that form the foundation of many modern pop songs. Were he not in this group, Mulligan could easily sing rock without changing his style one bit. But, as the group articulates on "Gold and Glory," it's not about the fame, even though fame can be a shiny ring just itching to be grabbed. We Are Messengers solves that issue by reminding us of Mark 8:36: for what shall it profit a man, indeed?
"The Devil is a Liar" has the EP's heaviest rock foundation to match its equally confident lyrics. On the opposite end of the sonic spectrum is the lullaby-like "Wolves," with its acoustic vibe and love song sensibility, something a father might sing to his child.
The challenge of a good EP is that one always wants more songs. I suspect those are coming. Nevertheless, Honest packs a lot to ponder in 23 minutes.
Four of Five Stars
Picks: "Honest," "Maybe It's Ok"