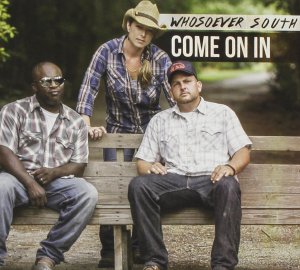 Whosoever South
Come On In
Elevate Entertainment (released October 7, 2014)
www.whosoeversouth.com
By Bob Marovich
Whosoever South is one of the most innovative Christian groups of the decade. The trio's self-proclaimed "country crunk" style blends elements of rootsy Americana and country with deep groove bass, gospel, and hip hop. Think Mumford and Sons meets Arrested Development.
Whosoever South is husband-and-wife team Rowdy and Sarah Eunice, and Mike Mitchell; all hail from Georgia. Vocally, Rowdy delivers the country feel, Sarah raps, and Mike sounds like Darius Rucker.  The group's sophomore effort, Come On In, is equal parts evocation of southern country values, stories of lives gone downhill fast, and the redemptive power of God.
The first few selections, and most notably the title track, are paeans to what the group declares as "how we do down here." The trio is fiercely proud of its southern heritage, espousing the importance of down-home values such as economic prudence, hard work, and spiritual fortitude. They employ an improbable but infectious combination of banjo, harmonica, thumping beats, and hip hop to get its point across.
The most poignant track on Come On In is "Living Water." The group weaves together two stories with two different outcomes—a fatal auto accident and a businessman whose life priorities are out of synch—to show how "living water" leads to everlasting life. "Crying Out" and "War Going On" tell stories of head-shaking human tragedies to explain the origin of some forms of anti-social behavior and how turning to God can change the ending.
Despite the gritty reality of some selections, Come On In never loses hope, never loses its essential optimism, its joie de vivre.
Whosoever South deserves major label attention for their distinctive sound and important messages. When the trio proclaims, "we gonna sing about Jesus till he calls us home," let's hope it is for a very long time.
Five of Five Stars
Pick: "Living Water," "Come on In."