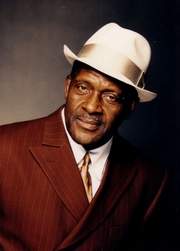 The Tennessean reported that David "Pop" Winans, Sr. died Wednesday, April 8 in Nashville, Tennessee.
Read more here in The Tennessean.
ALSO:
The Baltimore Sun's Karlayne Parker reflects on the life and legacy of Pop Winans: Gospelrama.
From Black Gospel Promo:
MUSICAL CELEBRATION AND MEMORIAL SERVICES FOR DAVID 'POP' WINANS
APRIL 20, 1934 – APRIL 8, 2009
TUESDAY, APRIL 14TH
7:00 p.m. – Memorial Service/Viewing
Perfecting Church
7616 E. Nevada
Detroit, MI 48234
(313) 365-3787
WEDNESDAY, APRIL 15TH
10:00a.m. – Homegoing Celebration Service
Perfecting Church
7616 E. Nevada
Detroit, MI 48234
(313) 365-3787
MCFALL BROTHERS FUNERAL HOME
9419 Dexter Ave
Detroit, MI 48206
(313) 895-8900
* Flowers will be received at this location
* The Winans Family wishes to thank everyone for their prayers and continued support. Flowers, donations and well wishes can be sent to Perfecting Church as well.
**********************************
After suffering a heart attack and stroke in October 2008, David Winans, Sr. the patriarch of the musical dynasty, The Winans Family, passed away quietly @ 4 p.m. CST on Wednesday, April 8, 2009. Delores Winans, his wife for 55 years was at his bedside at Alive Hospice in Nashville, TN.
David 'Pop' Winans was born on April 20, 1934 in Detroit, Michigan. He was raised in the Mack Avenue (COGIC) where his grandfather Isaiah Winans was the pastor. At the age of 18, Winans began singing with the Nobelaires quartet group. A saxophonist and clarinet player, he later joined the Lemon Gospel Chorus in 1950. There he met his future wife Delores Ransom, who sang in the ensemble.
After their 1953 marriage, Winans juggled multiple jobs (car salesman, taxi driver, custodian and barber) to take care of the ten children the couple would eventually have. Aside from his various entrepreneurial activities, Winans began to preach sermons in the late 1960s and was very active in his community. He started a youth organization in 1968. "We had 300 kids, ten little league baseball teams, a track team, arts and crafts. We were trying to do everything we could to help the youth," he said in 1999.
Winans is survived by wife, Delores, multi-Grammy award winning children: The Winans (Marvin, Carvin, Michael & Ronald who passed in June 2005 at age of 48); BeBe & CeCe, Daniel, Angie, Debbie, and eldest son David Winans II and 23 grandchildren.
CONTACT FOR MORE INFORMATION CONTACT:
Erma Byrd (323) 965-5551/ erma@ebyrdcom.com – email is best contact on Tuesday & Wednesday
Bill Carpenter (202) 506-5051/ billcarpenter@capitalentertainment.com