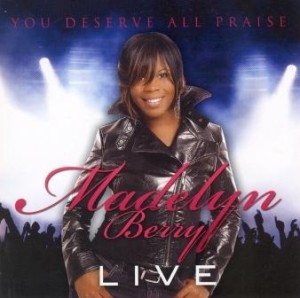 Madelyn Berry
You Deserve All Praise
BerryTightMusic 2010
https://www.cdbaby.com/cd/madelynberry
Madelyn Berry is an extraordinarily gifted vocalist. She possesses boundless energy, superb pacing, a personality that leaps out of the speakers, and a spectacular voice that runs the gamut from throaty warble to launching pad for high notes that soar into the ozone layer.
On her first major release, You Deserve All Praise, the Orlando, Florida-based singer comes out of the gate already warmed up, extending syllables on the opening track, "Oh Clap Your Hands," as if it were a Handel recitative. She performs Chris Tomlin's quintessential praise and worship ballad, "How Great is Our God," with power and aplomb, tagging a sing-along version of "How Great Thou Art" to the coda. Berry also tears the cover off the congregational gospel song, "Oh How I Love Jesus."
Berry slows down the energy and tempo mid-program, probably to catch her breath in preparation for a strong conclusion.
The singer wrote most of the songs on the album, either alone or in collaboration with her husband, Taron Berry, who also produced the album and assisted on keyboards. Three original compositions deserve special mention. "Leaning" has an effective call and response and simple, jump rope chant melody. "Yes You Can," punctuated by inspirational messages from Berry's pastor, Rev. Zachery Tims of New Destiny Christian Center in Apopka, Florida, is a ballad of encouragement with crossover potential. The title track is an excellent sampling of Berry's touch on an extended praise and worship number.
While this is a live album, at least one track sounds studio-produced. But no matter: a hidden live track gives the listener an unexpected opportunity to catch a few more minutes of the program.
You Deserve All Praise is a well-produced major introduction to Madelyn Berry. She is scheduled to appear on Dr. Bobby Jones' program in May, which affirms that her star continues to rise.
Four of Five Stars
gPod Picks: "Oh How I Love Jesus," "Leaning," "Yes You Can," "You Deserve All Praise."