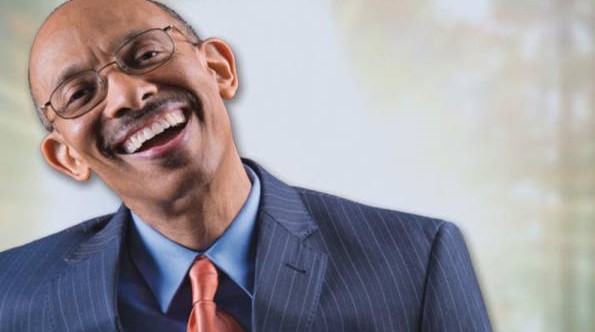 By Bob Marovich
As a young person growing up in Central Indiana, Leonard Scott had an inkling of what he wanted to be when he grew up.
He wanted to be a rock star.
"I wasn't into gospel music [at that time]," Dr. Leonard Scott told the Journal of Gospel Music. "I was into rock and R&B. But I had an experience with my Maker. And at that experience, I learned that music had been my God."
Rather than transition from secular to sacred music, howeve,r Scott's religious conversion kept him away from music altogether.
"I didn't want anything to draw me away from my newfound love [of God]," Scott explained. "After a year or so, He released me and I got in the church choir. And from there, it was like He gave me back what I had given to Him, and He changed it. Instead of me being a big star, He gave me a record company. I had the desire of my heart—music—but it would be for His glory."
The conversion ultimately led to Scott's co-founding Tyscot Records with Craig Tyson. One of gospel music's major players, a multi-media entertainment company, and one of the oldest existing African-American-owned record labels in the country, Tyscot has a roster that includes hitmakers such as Anthony Brown & Group TherAPy, Casey J, and the Rance Allen Group.
But the road to success was anything but straight. In fact, the most creative fiction writer would be hard pressed to conceive as improbable a story line as a Central Indiana dentist parlaying his singing in a church choir into an international music and video enterprise.
How did it happen, then?
"I wish I could tell you it was some great inspiration from the Lord," Scott laughed, "but our choir [from Christ Church Apostolic in Indianapolis] did a recording and we needed a label to put it on. I can look back in retrospect to see the hand of the Lord, but it was just something we needed at the time."
When the label started in 1976, Scott said, it was more of a hobby than a business. In addition to Christ Church Apostolic Radio Choir, early Tyscot signees included Truth and Devotion (from Anderson, Indiana), the Pentecostal Ambassadors, and Indianapolis favorites Robert Turner and the Silver Hearts. "We were able to help some local artists that nobody else was interested in," Scott reflected, "and we had fun doing it."
The label's first break came in the early 1980s when the Reverend Bill Sawyer of Cleveland, Ohio, heard Scott promoting his new record company.
"Reverend Bill Sawyer was part of the Gospel Music Workshop of America," Scott recalled. "He was chaplain of the Gospel Announcers Guild. The [GMWA] convention was in Chicago that year, and I had a chance to stand before the [gospel] radio announcers. I was sweating, trying to get the announcers to play my recordings! Afterwards [Sawyer] came up to me, put his arm around me and said, 'I kinda like you. I'm a pastor and people are calling me from all over wanting my record. So I'm just going to let you have it."
The album was Something Old/Something New, by Sawyers' Christian Tabernacle Concert Choir.
Georgia Lane, a lady Scott remembered as being about ninety years old at the time of the live recording and a nightclub singer in her former life, led the album's most popular selection, "Jesus Keep Me Near the Cross."  Gospel stars Kitty Parham and Doris Sykes also sang on the album.  Something Old/Something New hit the Billboard Top Spiritual Albums chart in 1984 and stayed on it well into 1985.
"That was our first break where we started getting real airplay and records in the stores," Scott said. "It wasn't a major hit but it took us to a level we hadn't been to before."
Tyscot's major breakthrough happened when it signed choir phenomenon John P. Kee.
Scott remembered the story well: "I had a guy working A&R for me out of Detroit. It was early on a Saturday morning. I was still in bed and he called me, said, 'Doc, I think we got us one.' And he started playing a cassette tape demo that John had sent him. I'm still half asleep. I said, 'Yeah, that's nice.' He said, 'You think that's something? Listen to this one!' And he kept playing these songs. I said, 'Man, just go on and sign him!'
"Of course, when we signed John, he was a new artist, and we had the same challenges that you have with any new artist—getting airplay, getting [the record] in the stores, but he was such a phenomenal artist that he broke. John told me later that other record companies asked him why he didn't send them his tape, and he said, 'I did! I sent it to every company out there!'"
Securing Rance Allen for Tyscot was the work of Scott's son, Bryant, also a company executive.
"Rance wasn't really doing anything at the time," Scott said. "[Bryant] called [Rance's] manager but Rance wasn't interested. He said, 'I've done that [recording], I'm a pastor now.' Bryant really had to convince him: 'Man, you still have a lot to offer. You need to come back!' And finally he did and that's how Rance got back out there."
Tyscot's signing of Allen and Deitrick Haddon, another music innovator, is representative of the company's willingness to take a risk on artists who push the envelope by blending Saturday evening music with Sunday morning worship.  "A smaller company will take a gamble [on an artist]," Scott explained, "and once they've broken, a larger company will come along with more dollars and scoop them up."
Tyscot continues to take that gamble. It did so with Anthony Brown & Group TherAPy, and the group won ten Stellar Awards in one year. Tyscot's new association with talent magnet Marquis Boone has produced Billboard charting albums and singles by Casey J and Bri Babineaux.
Although relentlessly looking ahead, Tyscot has taken a moment to reflect on its journey with Feel Good: 40 Years of Life Changing Music. Scott explained that the company selected the tracks for the retrospective by looking at the popularity of the songs and the artists while ensuring a good flow to the son mix.
Most, but not all, of the selections are original recordings. For example, "Feel Good," the title cut, is based on the label's debut album by the Christ Apostolic Church Radio Choir but not pulled from the album. "You can imagine what the technology was like back in the '70s," Scott laughed. "It probably wouldn't have gotten played on radio! So it had to be recut. And a few other ones were recut, but except for three, all are from the original masters."
Scott said that after 40 years in the industry, "I've learned to be faithful to what you do and persist. Just keep going and something's going to happen. And for us, the most exciting times are still to come."
For more information, visit www.tyscot.com.