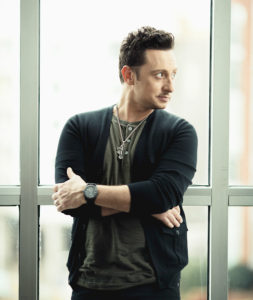 By Bob Marovich
Bryan Popin, the singer, songwriter, producer, and musician whose national debut gospel album, You Can Make It, was released by eOne Music in 2013, is back with a new single and new career momentum. He has seen lots of success in music and loves to spread his love to others. His greatest goal is to encourage others to learn music through his. As you'll find out later, his mother taught him piano so he encourages everyone to take up learning it at least once in their life. You never know, you might enjoy it so much you take it up as a hobby. But explaining from personal experience that's easy to pick up a hobby but sometimes it's too hard to maintain the hobby so going for some expensive digital pianos never sounds like a good option to begin with. In that case, this list might come handy if you are new to pianos. However, as he tells JGM, his journey has had its share of challenges.
JGM caught up with Popin just prior to his departure to appear on BET's new gospel music television program, A Joyful Noise.
Bryan Popin was born and raised in Middletown, New Jersey, about 45 minutes from New York City. "My mom had an incredible gift for teaching piano," he said. "She had 40 students and was a choir director and played piano for a United Methodist church in Central Jersey. My dad played records and the radio, but he loved all genres of music."
Watching his mother direct and accompany the choir gave young Popin an early appreciation for sacred music. "My mom would direct choirs that would sing old school hymns," he said. "I loved the arrangements."
At age five, Popin was asked by his mother if he wanted to learn piano. "I couldn't wait!" he said. "I couldn't reach the pedals, but I had an interest in playing the piano."
Popin was such an astute student that by his teen years, he was becoming a talented concert pianist. "But if you took the music from me, I was lost," he noted. "I had no ear, no pitch, no memory for the notes, any of that."
That is, until the day that a man prayed over Popin so that he may grow in his gift of music. Afterward, Popin threw the music books on the floor and began playing with his eyes closed. Miraculously, he could get through 42 pages of a Mozart sonata without needing the book.
"From that moment on, I could memorize and play by ear," Popin said. "I could never do that before. I cried because I knew that God had done something. He had touched my life and my heart. I realized that something was bigger than me. I felt it was more of a calling."
By age sixteen, Popin had advanced beyond his mother's teaching ability. He became a student of Dr. Sam Mammel of Juilliard, Dr. Ralph Lambert of Monmouth University, and Dr. Joseph Accurso of Rutgers. For three or four years, he learned improvisation and jazz from these men. He also began writing music, playing piano for churches, and organizing a small ministry. He graduated high school early, enrolled in Bible school, and became a licensed minister.
A visit to a new eye doctor proved providential. In idle chat during the appointment, Popin learned the doctor's father-in-law was a successful entertainment attorney. This led to an introduction to Grammy award-winning R&B producer Ira Schickman. The two hit it off.
"[Ira] was like my big brother," Popin explained. "He opened up a world to me that would not have been open to me before. He introduced me to a number of people in the R&B and pop realm, including Chaka Khan, Justin Timberlake, and Stevie Wonder. I traveled with Ira for three years, writing and producing for his clients."
The experience, Popin added, "showed me that God could do absolutely anything-one day I was in a small apartment in Jersey, wondering how I would make it with a small ministry, and the next day, I'm jamming with Stevie Wonder."
It was Wonder who bestowed upon Popin a nickname that stuck: "Little Boy Wonder."
But Little Boy Wonder did not see himself musically as anything more than a songwriter and instrumentalist. He recorded seven or eight instrumental CDs independently and wrote songs for other people. He enjoyed the work, but also felt some rejection and anxiety in the process.
"I decided to move to Nashville," he said. "During that time, there was a lot of confusion and frustration [in my life]. A lot of dots weren't connecting. Money was a big issue, and I was about to claim bankruptcy, after fifteen, sixteen years in ministry. I wasn't lost spiritually, and I wasn't bitter, but I was confused and mad. It was during this time that God changed my heart and I realized that it was okay to be broken. He could use me more [broken] than by having pride and acting like I had it all together. That's when He birthed songs in me, and He gave me a voice, and created whatever I am as an artist."
That experience led to a partnership with eOne Music and Popin's national gospel debut, You Can Make It. It was the first CD on which he sang. Designed to be a "multicultural, diverse music project," You Can Make It traversed CCM, Praise & Worship, and traditional gospel styles while the lyrics spoke of the highs and lows in Popin's life. Top-shelf artists such as Martha Munizzi and Tamela Mann were among the album's guest vocalists.
The first single, "I Can Make It," became a theme song for many people. "It was God using me to help others," Popin said. "If God can get me through it, it's selfish if I don't share that encouragement with other people."
The ease with which Popin shifted from CCM to traditional gospel may have surprised those who did not know Popin's story.
"I've lived in different cultures and diversity my whole life," Popin explained. "Often I'd be the only white dude in the room or in a church. I never saw it any other way, I just thought we were all people, we all bleed red. My whole goal is to connect, so if I have to connect through an old school hymn on piano to let someone know that this is how I was raised, and not just something I'm trying to perform, I'll do it."
Being a white artist in Black sacred music sometimes had its challenges. He said: "I never experienced racism until you go through a situation where you see it happen to someone else, or you are caught off guard and you realize, 'Wow, they're treating me this way because of the color of my skin.' It's like when your best friend treats you wrong, it hurts more."
Meanwhile, Popin's music attracted tastemakers such as Bishop T. D. Jakes, who featured the young singer on his television program. "[Bishop Jakes] has been a big supporter and I appreciate it," Popin said.
But when Popin knew it would be some time before he could create new music, certainly not on the timeframe of a major record company, he and eOne decided to part ways amicably.
Finding his way after eOne was not easy. "It was a season of almost a year and a half of not knowing what 'next' looked like," he said. "I was crying and mad and frustrated, and I heard this voice say, 'Stop! Shut it down! I've got you, I've always had you. This was all part of the plan. This had to happen. Not a surprise to me. You were created for such a time as this.'"
Such a time as this. Popin had the theme for his next single.
"I ran to the keyboard and penned this song. It was almost like speaking to me. Just like 'I Can Make It,' there's a bigger message than just me. God's still in control. This is not a perfect world. But God is still faithful, He's still with us and He's never left our side."
Released to radio earlier this year, "Such a Time As This" began to capture its share of listeners. "With all the craziness and injustice in the world, it has a message of unity and faith," Popin explained. "God had this all planned and mapped out."
As he wondered what company he would partner with for the single, Popin was approached by investors to start his own label. Little Boy Wonder Music was born.
Surveying his career to this point, with all of his peaks and valleys, Popin wants to make sure that the purpose of "Such a Time as This" is not misunderstood.
"It's not that now is my season to get a million dollars, to receive what I've been waiting on, whatever that material thing is. That's selfish. That's not the theme of the song. Rather, now's the time to love, now's the time to have compassion like Jesus, and to rise up like Christians and be a light in this crazy, dark world to help people through difficult times. Romans 12:14 has been important to me. If you are a Christian, how could you not care about something that's hurting someone else?""
For more information, visit www.bryanpopin.com.