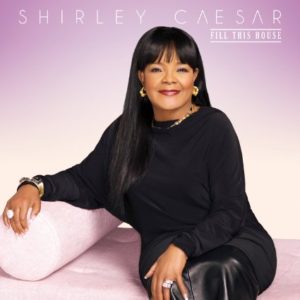 By Bob Marovich
Pastor Shirley Caesar watched the news with incredulity as she learned how Dylann Roof killed nine people during Bible study at Emanuel AME Church in Charleston, South Carolina.
"I found it very hard to forgive the boy," Caesar told the Journal of Gospel Music. "I kept asking myself: 'Who would come and sit in a Bible study and be a part of it, and people show love and friendship and favor, and then turn around and kill nine people?'"
For two weeks, Caesar channeled her internal struggle into the Bible study she led at her church, Mt. Calvary Word of Faith in Raleigh, North Carolina.
"I taught about forgiveness," she said, "because it was hard for me to get over that. But I did, especially [after] hearing the lady crying in the courtroom saying, 'We forgive you.'"
Caesar shares her commitment to compassion on "Mother Emanuel," a song on her new album, Fill This House, released by Entertainment  One Music on June 3. The track includes a snippet of President Barack Obama commenting on the tragedy.
"I was blessed to get a song like that," she said. "God showed favor on me. This album is different because of 'Mother Emanuel.'"
Fill This House includes other guest appearances, in addition to POTUS. Caesar collaborated virtually with Pastor Hezekiah Walker on the churchy "Survive This." Fellow Grammy Award-winning singer Anthony Hamilton joined her on the quartet-vibe ode to faith, "It's Alright, It's OK."
"I think that's one of the best songs on my CD," Caesar said. "I recorded the song and did both verses, and [the producers] kept both verses, but they just slid my voice out and pushed Anthony Hamilton's in."
The album also includes a hymn, "Sow Righteous Seeds." It's a tribute to Caesar's oldest brother.
"It was his favorite song," Caesar said. "He passed away one day short of his 90th birthday, and on his last day on earth, he was singing 'Sow Righteous Seeds.'"
While Caesar begins the hymn in traditional church soloist style, "Seeds" transitions into a Bahamian rhythm, courtesy of her longtime producer Michael Mathis.
In describing the "many wonderful things that I desire listeners will hear" on Fill This House, Caesar moves effortlessly into the evangelist's vocal rhythm.  "I want them to know that God is an on-time God, that He'll never leave you. I want them to leave knowing that power works. I want them to know that prayer is more than just talking about the Lord but talking to Him, and then be quiet and let Him talk to you. That God wants to fill their spiritual house. He wants to fill their lives with love and joy."
Caesar's more than sixty-five years singing gospel music professionally—her first gospel recording was as Baby Shirley for Federal Records in 1951—is due to a simple but effective regimen. "I rest as much as I possibly can," she said. "When I'm in the studio, I have to keep a lot of hot water around because of sinus drainage. But other than that, I do pretty well."
Caesar attributes her longevity and relevance to a new generation of gospel music enthusiasts to following a line out of a Thomas A. Dorsey song.
"I try to live what I sing," she said. "I don't sing one thing and live something else. I try to live the life. That alone is one of the things that keeps me in line and lets all the young people know 'she ain't going nowhere!'
She laughs. "I tell people I'm in the B Club: I'm gonna be here when they come and be here when they go. I enjoy what I do.  I pray that the Lord isn't ready for me anytime soon, because I feel that I have so much I can still give to the people."
July 4 will be two years since the passing of Caesar's husband and Mt. Calvary Word of Faith's co-pastor, Bishop Harold Ivory Williams. Although life has had its challenges for the songstress and pastor—"death is certainly no stranger to my house," she rued— she manages to get along. "I have plenty of help. I have nine other group members who help me, but I also have a manager that takes care of my booking and my books."
What about life outside music? "I enjoy going out to eat and that's pretty much it. I'm doing some remodeling and painting. Other than that, my life is filled with church work, and I try to be a humanitarian. When I was a wife, I did my best to be a good wife."
But for now, it's about promoting the new CD.
"I will do whatever I can," Caesar said, "because I believe that Fill This House is going to be a big CD for me, I just believe it. I pray that I can sell at least 500,000 [copies].  Wouldn't that be a blessing!"
For more information, visit www.shirleycaesar.com.