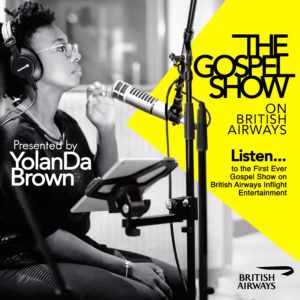 British Airways and YolanDa Brown take Gospel Music into the Air
From a Press Release:
British Airways has added a new radio show to its inflight entertainment offering: "The Gospel Show," presented by YolanDa Brown."
This is the first ever gospel radio show to be broadcast on British Airways planes around the world.
A lively mix of gospel music from both established and emerging artists from all over the world. From trad to the best of contemporary gospel and everything in between, this show explores the different sides of gospel music.
Award Winning Saxophonist YolanDa Brown fell in love with radio at the age of 8 when the family television was replaced by a radio. She was attracted to radio because of its ability to interact and involve listeners in a non-visual way compared to other formats.
"My radio show provides a unique opportunity for travelers to discover new music and learn about the artist uninterrupted in the air," Brown said. "I am looking forward to hearing wonderful stories of discovery… now I want to travel everywhere the radio show does."
The Gospel Show with YolanDa Brown broadcasts on British Airways Inflight Entertainment.
The first show features music from Hezekiah Walker, Tasha Cobbs, Jessica Reedy, Jonathan McReynolds, Tye Tribbett, Annastasia Baker, Anita Wilson, and loads more.