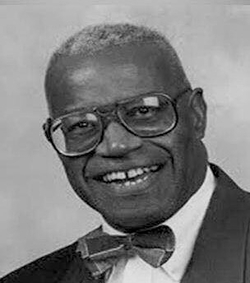 Gospel musician and group leader Kenji Bolden informed JGM of the passing of Dr. James B. Boyer, one half of the Boyer Brothers gospel duo. Dr. Boyer passed on May 10, 2017.  His brother, Dr. Horace Clarence Boyer, passed away July 21, 2009.
Here is the information from Dr. Boyer's obituary:
The Reverend Dr. James B. Boyer was the Founding Pastor of the Fellowship Temple Church of God in Christ and Professor Emeritus at Kansas State University, both in Manhattan, Kansas. He was born April 3, 1934, in Winter Park, Florida, and was the third of eight children of Elder Climmie L. Boyer Sr. and Missionary Ethel W. Boyer.
The Reverend Dr. Boyer was preceded in death by his parents, Climmie and Ethel Boyer; a sister, Pinkie Boyer Crews; and four brothers, Climmie L. Boyer, Jr., Dr. Horace C. Boyer, Dr. Joe Louis Boyer, and Timothy J. Boyer.
His family was deeply religious and musical, leading him to play piano at age four without being able to read music. He would become an accomplished Writer, Educator, Pianist, Gospel Composer, Recording Artist, Scholar and Pastor. He was a devoted husband and proud father, grandfather, and great-grandfather.
At age twelve, he began singing Gospel Music with his younger brother, Horace, and became the duo known as the Famous Boyer Brothers that performed throughout Florida and the Southeast, opening for such gospel music greats as Mahalia Jackson. At sixteen, the duo recorded its first gospel single, "Step By Step". In 1956, he earned a Bachelor in Science Degree from Bethune-Cookman University, Daytona Beach, Florida. His gospel career took a hiatus when he enlisted in the U.S. Army, working as a Personnel Administrative Specialist and performing for enlisted soldiers, including a concert in Amberg, Germany.
In 1960, Dr. Boyer married the love of his life and wife of nearly fifty-seven years, Edna Pearl Medlock, and they soon welcomed their only child, a son, Alan Wayne. He then earned a Master of Science Degree in 1964 from Florida A&M University, Tallahassee, Florida. In 1969, he earned a Ph.D. from The Ohio State University, Columbus, Ohio.
Following a brief tenure at the University of Houston as Professor of Education, he was recruited in 1971 to Kansas State University where he became one of the first full-time Professors who was also African-American. He was a graduate Professor for Curriculum and Instruction and American Ethnic Studies and coordinated many programs, including the Urban Master's Program. In 1996, he authored a textbook on "Understanding Curriculum from a Multicultural Perspective."
For more than forty years, his smooth Baritone voice filled the airwaves in North Central Kansas through his gospel music radio and local church announcement program initially on KMAN and, for the last twenty-seven years, on Angel 95.
Dr. Boyer earned numerous awards for his civic and professional contributions, including: The Danforth Foundation Award for Humane Teachers, The Kansas City Urban Education Award, The University of Illinois Advancement of Minority Education Award, The Martin Luther King Drum Major Award, and The Kansas State University College of Education Award for Diversity and Leadership. His historical contributions to Kansas State University were referenced in a documentary entitled, "A Long Road: 150 Years of Collective Experience." His legacy continues through the Kansas State University Boyer/Switzer Lecture Series.
The Reverend Dr. Boyer was the Founding Pastor for more than forty years at the Fellowship Temple Church of God in Christ, a part of the Kansas East Jurisdiction of the International Churches of God in Christ. In addition to leading the church that began in the family home in 1976, he served in several roles, including: church Pianist, Choir Director, Family Counselor, Superintendent for the C.H. Mason District that he founded in 1999, and Senior Administrative Assistant to the Kansas East Jurisdictional Bishop. Of all of his roles in the church, he loved working with the Sunshine Band the most. He enjoyed inspiring, teaching, and getting this group of young people and children involved in the work of the church.
His former students, colleagues, family, and friends span the globe. Many lives were never the same because of the time they spent with the Reverend Dr. James B. Boyer.
The Revered Dr. James B. Boyer leaves to cherish his memories a devoted wife and partner in life, love and the church, Edna Medlock Boyer; a son, Alan Wayne, and his wife Myra (her daughter, Lauren); one granddaughter, Alexandria; one great-granddaughter, Aniyah, all of Atlanta, Georgia; two sisters, Dr. Minnie Boyer Woodruff of Orlando, Florida, and Dr. Edythe Boyer Jones of Orangeburg, South Carolina; and numerous nieces, nephews, cousins, and sisters-in-law.
Funeral Services for The Reverend Dr. James B. Boyer will be held Friday May 19 11:00 a.m. at the First United Methodist Church, 612 Poyntz Ave, Manhattan, Kansas.
The Viewing/Visitation will be from 6:00 p.m. to 8:00 p.m. Thursday, May 18, at the Fellowship Temple Church of God in Christ, 201 Knoxberry Drive, Manhattan, Kansas, and again on Friday, May 19, from 9:00 a.m. until 11:00 a.m. at the First United Methodist Church, 612 Poyntz Ave, Manhattan, Kansas.
A Military Burial will take place immediately after the service at the Kansas Veterans Cemetery at Ft-Riley, 5181 Wildcat Creek Road, Manhattan, Kansas, 66503.