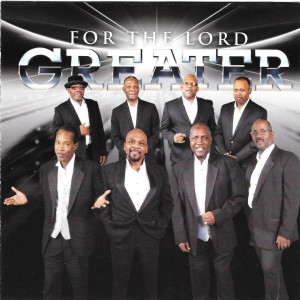 For the Lord
Greater
(private press 2015)
By Bob Marovich
For the Lord may be an unorthodox name for a gospel quartet, but the group has been around for some time and their new album, Greater, demonstrates that the gentlemen are 100 percent gospel quartet with a traditional bent.
The quartet appears to favor brisk tempo sing- and clap-along songs, as the album has several, starting with the opening cut, "He's Alright" and "Blessing On the Way." "Grip on God" and "Solution is Jesus" also have that rocking rhythm that is quintessentially quartet. Johnavan "Bo Peep" Sauls, the credited songwriter, works squarely within the traditional gospel framework.
As the titles suggest, the lyrical content on Greater overflows with timeworn church wisdom, the kind that quartets have ladled out for many decades; in other words, you will find no new age theology on this album. Still, For the Lord is not above toying playfully with a line or two, as on the chorus of "Don't Tell God:" "Don't tell God about your problem / Tell your problem about God." Or on "Messin':" "The devil is messin' / But God's still blessin'."
The quartet's vocal coloration runs from high falsetto to deep baritone, with Kevin Alexander, Claude Reed, and Phillip Grant handling lead work (Harold Demart is the fourth singing member). The musicians are steady and strong, with music director Calvin Mathis dropping concise and hypnotic guitar licks on "He's Alright." There is a synth in the mix, and while played well, I contend that a Hammond organ and acoustic piano are better substitutes because of their more authentic sound.
Quartet enthusiasts will enjoy Greater and For the Lord for the above reasons, the crisp production, and the album's overall message that God is giving out blessings because He loves you "and there ain't nothing you can do about it."
Four of Five Stars
Picks: "He's Alright," "Don't Tell God."