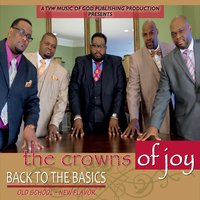 Crowns of Joy
Back to the Basics
(private press – 2015)
www.cdbaby.com/cd/thecrownsofjoy
By Bob Marovich
The Pheba, Mississippi-based Crowns of Joy's Back to the Basics album promises "old school—new flavor." It delivers on its promise, largely through its "Trumpology" medley of drive-tempo hits of the past.
The Rhythm of Gospel Award-nominated Crowns of Joy was organized in 1980 by the late Reverend Tom Bill Avant, a veteran quartetter who was organizing singers back in the late 1950s when he presented a neighborhood group called the Five Gospel Wonders.
Tommy and Victor Avant, Bud Townsend, and primary lead singer Wayne Wooten carry on the Crowns' torch.  Not unlike the Jackson Southernaires, the Crowns take a suave and relaxed approach to quartet singing, with Wooten roughing up the ambience when the temperature needs turning up.
The group also seems to favor narrative introductions and interludes. There are a few on the album, including the opener, "He Will," and the unhurried "How I Got Over," where Wooten conjures memories of his late grandmother, Mary Lena Wooten, who warned the young folk in her care that her time wasn't long. Wooten turns the mike over to fellow Mississippian and well-known soul singer Willie Clayton, who takes the song to the next level as the men revel in having made it through the storms of life.  It's a fitting tribute to the sacrifices of the Mary Lena Wootens throughout history.
As for the "old school—new flavor," "Trumpology" best delivers the goods. The title doesn't mean what you might think: it is a description of the quartet's medley of "shouting-hip-slapping" fan favorites from their 35-year repertory. The CD contains a regular and extended (7+ minute) version.
The skyward-looking "Oh Peter," another of the group's early favorites, is also an example of traditional gospel marinated in the new flavor. "Right There for Me" is an old school driver and perhaps the album's finest newly-composed piece in the convention. Wooten and the quartet lean on the well-worn analogies of Jesus as doctor and lawyer as the beat encourages hand clapping and foot tapping in righteous assent.
The Crowns of Joy display their funkier side on "Alright," a slow jam arrangement of the call-and-response favorite, "What Do You Know About Jesus." They up the ante on "Rock" with an intro borrowed from the main motive of Bobby Caldwell's 1978 "What You Won't Do for Love," and interpolations of Michael Jackson's "Man in the Mirror."
Back to the Basics is packed with more than 75 minutes of easy-does-it soulful quartet singing, and very good and genuine singing, by the way, just like you hear at gospel programs.
Four of Five Stars
Pick: "Right There for Me."