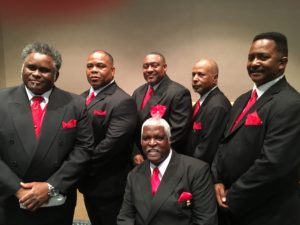 Brothers in Unity
Somewhere to Lay My Head
(independent release)
By Bob Marovich
Originally recorded in 2008 as their debut album and relaunched this year, the Brothers in Unity quartet's Somewhere to Lay My Head is an album of traditional hymns as well as new songs composed in the traditional gospel quartet style.
The album is lovingly dedicated to Sandra Abney, the spouse of the quartet's founder and manager, Elder Larry Abney, and someone who, from the photo included in the album package, sadly passed away much too young. The title track, not a cover of the Sensational Nightingales/Highway QCs classic but a newly-composed song by Elder Abney, is dedicated to her memory. Knowing that "Still Have Joy" was also dedicated in Sandra's memory adds poignancy to the song's lyric: "After all that I've been through / I still have joy."
The album's primo musical moments come in the bonus track, an acappella rendition of "Oh How I Love Jesus" (they do the song twice elsewhere on the CD, but with music). Even if they are not 100 percent perfect on every track, the harmonies are not electronically adjusted anywhere on the album, so you get a refreshing sense of authenticity.
In quartet years, Brothers In Unity is still a youngster. From Ridge Spring, South Carolina, the group was formed in the living room of Elder Larry Abney in 1998. The original members were Abney, Frank Baxley, Bruce Butler, and Brady Murphy. They performed their first program at the Unity Baptist Church in Augusta, Georgia.
Several personnel changes took place in the ensuing years. Today, in addition to Abney, the members are Kenneth Scott, Gerald Meekins, Rodney Turner, James Holt, and Marvin Garvin. Darius Owen and James Upson are among the musicians. Tony and Ivory Ligons assist on the album, and the Abney's six-year-old son Daylan sits in on keys for "Still Have Joy." And, one might add, the spirit of Sandra Abney is present also. Genuine quartet music.
Three of Five Stars
Picks: "Pressing On," "Oh How I Love Jesus"