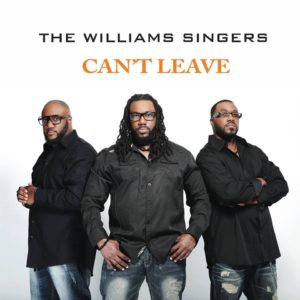 "Can't Leave"
The Williams Singers
From the Blackberry Records CD In Real Time
(Release date: March 31, 2017)
www.blackberryrecords.com
By Bob Marovich
The Lord has been so good to the Williams Brothers, they just can't leave Him.
That's the premise of "Can't Leave," the new single from the contemporary gospel trio's new album, In Real Time. It has all their ingredients: smooth vocals, silky harmonies, and funky instrumentation. Darnell, Dezmien, and Dezrale Williams trade leads as they offer their gratitude to God, all to an easy tempo designed for demonstrating assent than shouting the glory down.
Organized by their father, the Reverend Charles Williams, whose cousin was legendary singing preacher Reverend Leo Daniels, the Williams Singers of Indianapolis, Indiana, were originally called the Christian Cavaliers. The group later changed its name to the Williams Family Singers, then simply the Williams Singers. They signed with Blackberry in 2016 and In Real Time, a live recording made in Indianapolis, is their first offering for the label.