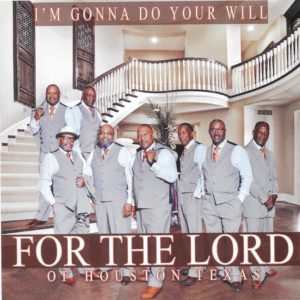 For the Lord
I'm Gonna Do Your Will
Independent (2019)
By Bob Marovich
From the Soul Stirrers to Endurance, Houston, Texas, has a strong gospel quartet history.
For the Lord is another quartet that hails from the 713. As demonstrated on its full-length release, I'm Gonna Do Your Will, the group possesses an easy, relaxed sound, pulling elements from the smooth-singing R&B male groups of the 1990s.
That is not to say For the Lord doesn't have drive tempo tracks up their sleeve. One of them, "Yes I Did," opens the album. The song is led by Phillip Grant, who also handles lead duties on another church wrecker, "He Can Count on Me." Both contain prominent call-and-response work, with Grant calling the verses and the quartet answering. "Center of My Life," led by Harold Demart, is also an uptempo track, but with a decidedly country beat.
As on the quartet's 2015 album Greater, songwriter Johnavan "Bo Peep" Sauls is keen on word plays that double as church aphorisms. Examples can be found on "Fellowship"–the only ship, the men sing, "that won't sink." "Keep on Pressin'" features the singalong snippet "I'm pressing for my blessing." The compelling "Grace" finds Claude Reed in wide-eyed wonder at God's grace, repeating "I didn't deserve it / I didn't earn it."
"My Life is in His Hands" is a new song with an old soul. "Heaven Will Be the Last Step" and "Steppin'" share thematic sensibilities in their focus on entering the Pearly Gates.
Some of the group's lead singers are better than others, with Grant being the most compelling singer of them all. As a group, however, the men harmonize well. They are supported by a solid rhythm section but with a tad too much synth for my tastes. All in all, For the Lord has done a nice job producing another crisp album.
Four of Five Stars
Picks: "Yes I Did," "He Can Count on Me"