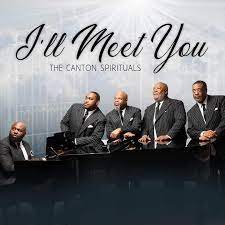 "I'll Meet You"
Canton Spirituals
Malaco Music Group (2021)
www.malaco.com
By Robert M. Marovich
Dr. Harvey Watkins Jr. and the Canton Spirituals send their love in "I'll Meet You," because nobody knows the day or the hour when it will be too late to say a final goodbye. On the other hand, if they don't get a chance to say farewell, they hope to see you "on the other shore."
That's the point. The song advises the listener to make it to the Pearly Gates by walking the straight and narrow path. "And if you love everybody, I'm gonna meet you too….Can I look for you?" Watkins doesn't need to raise his voice to preacher volume because the message speaks for itself.
To a mid-tempo quartet backbeat, the group paints a fascinating picture of the Universal Resurrection, when the first trumpet sounds and "the dead and dying will get up out of the ground, everybody's gonna meet in the middle of the air, all creeds and colors will be there from everywhere."
Make no mistake—Watkins and the group are in excellent health. The Canton Spirituals have been on the gospel highway since 1943. "I'll Meet You" will be on their forthcoming album, Hallelujah Anyhow.