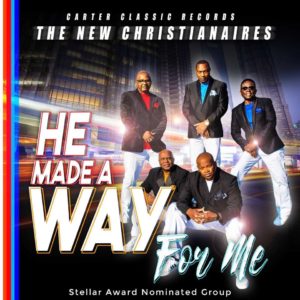 "He Made a Way for Me"
New Christianaires
Carter Classic (2020)
www.newchristianaires.com
By Bob Marovich
The New Christianaires' single "He Made a Way for Me" has all the quartet goods: an old school up-tempo beat, plenty of call-and-response singing between the lead vocalist and the group, high-octane shouting, and a rollicking extended vamp.
Both the lyrical content and arrangement exude the joy and gratitude of those who have been blessed by God. It's the group's best single to date.
Minister George N. Carter Sr., a member of the original Christianaires of Sontag, Mississippi, reorganized the group in Florida by adding Apostle Jarmain Hawthorne, Elvis Brumfield Jr., Anthony Seay, and the Reverend Clint Walker. Today, the group is comprised of Carter, Brumfield, Pastor Charles Martin, Bro. Arthur Smith, and Pastor Nathaniel Crumedy.