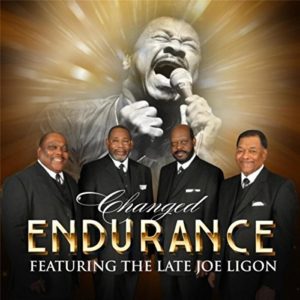 "Changed"
Endurance feat. Joe Ligon
SCCME (release date: January, 2017)
www.musicbyendurance.com
By Bob Marovich
A few years ago, Houston's Endurance quartet asked Joe Ligon, the legendary lead singer of the Mighty Clouds of Joy, to join them on "Changed" (not the Hawkins classic) and tell everyone about the life transforming properties of salvation.
Ligon accepted.
On "Changed," he and Endurance's Michael Robertson first trade leads and then sing to one another like two deacons so engaged in a praise conversation that they are oblivious to the congregation.
"Joe, I know what you are singing about," Robertson shouts in full quartet growl. "It's been hard sometimes, but since God changed you, everything's gonna be alright." Ligon assents and shares his gratitude, and on it goes, the two men drawing deep, gritty preacher-like growls from the depths of their diaphragms to fuel the vamp.
Little could anyone have surmised that this sweat-soaked expression of a changed life, set to a laid-back tempo, would be the last known studio recording Ligon would make with a group before he passed from labor to reward last December.
Endurance released this selection for the first time in January to remember their friend and fellow quartet singer, but also as a way to deal with several losses even closer to home. This includes the passing of member Dave Botts and Robertson's losing his 100-year-old father and his wife within a short period. There were the hits Houston took from Hurricane Harvey. And now member Earl Sampson is on temporary medical leave.
In response, Endurance has picked up two new members, Wallace Grant II and Sean Webb. The group's new album, Changed, was released digitally on September 29, 2017, and is available from all digital music outlets.  Physical copies of the album will be available for purchase very soon.
Meanwhile, Endurance is up for Grammy consideration in two gospel categories.  First Round voting is now open for Recording Academy members. First round ballots are due Sunday, October 29, at 6 p.m. PST.