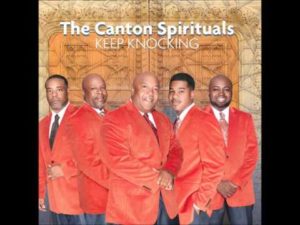 "Your Life's About to Change"
The Canton Spirituals feat. Pastor Tim Rogers
From the Malaco CD Keep Knocking (2016)
www.malaco.com
On "Your Life's About to Change," the veteran Canton Spirituals get down to spiritual brass tacks with able solo assistance from Pastor Tim Rogers (Tim Rogers & the Fellas).
Turning on the story of a single mother struggling to care for her children, the assemblage rolls up its collective vocal sleeves, lays down a languid tempo, and sings about the one Father who knows how much we can bear and will never let us down.
No prosperity theology here, no praying for a Mercedes or a new house or fancy clothes—just help getting through the day-to-day. Gospel quartets know how to bring the numinous to street level, and the Cantons do it on this, their latest single.